Wind power generation should experience solid growth across the US in 2016-2018, according to Fitch Ratings.
NEW YORK & CHICAGO--(BUSINESS WIRE)--Link to Fitch Ratings' Report: Smooth Sailing Ahead for Wind Power (Secular Trends Support Capacity Expansion)

https://www.fitchratings.com/creditdesk/reports/report_frame.cfm?rpt_id=880411
Wind power generation should experience solid growth across the US in 2016-2018, according to Fitch Ratings. Five-year visibility on production tax credits (PTCs), improving efficiency and cost structure, increasing environmental regulation of fossil-fueled alternatives, evolution of the grid infrastructure and state policy support should fuel the growth of wind power capacity over the medium term. Declining governmental subsidies could cause headwinds longer term, particularly if natural gas prices and electricity demand remain depressed, thereby constraining wholesale energy prices.
The PTC has been the most effective government program to promote the adoption of wind power to date. Initiated in 1992, it provides a 10-year, inflation-adjusted tax credit for each kWh of energy produced from qualifying wind, solar and biomass resources. The PTCs account for approximately one-third of a wind project's economics. Fitch anticipates the recent five-year extension of the PTCs will support a more stable wind construction cycle and could lead to greater cost efficiencies.
A wind farm's capacity factor is the key determinant of its cost competitiveness, especially given prevailing volume-driven subsidies. Technology improvements in blade design and turbine performance support capacity factors exceeding 50% in good geographies compared with 30% 15 years ago. Fitch estimates that wind projects with capacity factor of 50% and capital costs of $1,600/kWh generate low double-digit unlevered rates of return at mid-$30/MWh, inclusive of PTC.
Progressively stringent environmental regulations and renewable mandates support wind power development beyond economic considerations. Under current targets, renewable portfolio standards programs mandate energy from qualifying renewable energy to meet 9.3% of nationwide retail load by 2030 compared with 4.8% achieved in 2015. The stay of the Clean Power Plan (CPP) by the US Supreme Court has cast uncertainty about its implementation, but Fitch views it as highly likely the CPP, or similar laws incentivizing the deployment of incremental renewable generation, will be implemented over the coming years.
The location and variability of wind resources are the key challenges to the integration of wind power into the grid. The geographic expansion of balancing authorities, the shortening of generation dispatch schedules, the completion of high-voltage transmission lines connecting desolate windy areas to load centers and the proliferation of quick-cycle gas-fired plants are facilitating the integration of more wind power into the grid.
With a secular shift toward carbon-light generation, integrated utility companies (IUCs) are increasingly acquiring wind projects to diversify their generation fleet and grow their rate base. IUCs have the potential to own a high share of the national wind generation fleet given the meaningful overlap between high-quality wind resource areas and regulated states. Nearly one-half the existing wind capacity is located within regulated markets, but IUCs own less than 15% of these assets nationally.
The permanent cancelation of carbon regulation and continued weakness in natural gas prices are key downside risks to the long-term growth of wind generation. Both would impair wind power's relative cost competitiveness and its adoption beyond regulatory-mandated levels.
Additional information is available on www.fitchratings.com.
The above article originally appeared as a post on the Fitch Wire credit market commentary page. The original article, which may include hyperlinks to companies and current ratings, can be accessed at www.fitchratings.com. All opinions expressed are those of Fitch Ratings.
Featured Product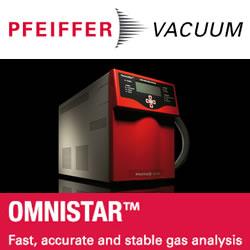 The Pfeiffer Vacuum OmniStar benchtop analysis system offers you a compact footprint, powerful software and Ethernet connectivity. It's the optimum solution for many real-time gas analysis applications. With the OmniStar, Pfeiffer Vacuum offers you a complete solution for gas analysis, in chemical processes, semiconductor industry, metallurgy, fermentation, catalysis, laser technology and environmental analysis. The turnkey OmniStar gas analysis system consists of heated, temperature-regulated gas inlet system, Quadrupole mass spectrometer, a dry diaphragm vacuum pump and HiPace turbopump. Unlike competing methods such as FTIR, OmniStar is suitable for qualitative and quantitative analysis of most gases.