Broadwind will produce these towers for delivery in 2016 and 2017.
CICERO, Ill., May 12, 2016 (GLOBE NEWSWIRE) -- Broadwind Energy, Inc. (NASDAQ:BWEN) today announced $34 million in new tower orders from two U.S. wind turbine manufacturers. Broadwind will produce these towers for delivery in 2016 and 2017.

Broadwind interim CEO Stephanie Kushner stated, "The outlook for the wind industry in the U.S. has strengthened over the past few months with the extension of the PTC and the release of the latest IRS guidelines which provide specific guidance supporting new windfarms. The employees at our Manitowoc and Abilene plants are producing high-quality towers to help meet this demand."
About Broadwind Energy, Inc.
Broadwind Energy (NASDAQ:BWEN) applies decades of deep industrial expertise to innovate integrated solutions for customers in the energy and infrastructure markets. From gears and gearing systems for wind, oil and gas and mining applications, to wind towers and industrial weldments, we have solutions for the energy needs of the future. With facilities throughout the central U.S., Broadwind Energy's talented team is committed to helping customers maximize performance of their investments—quicker, easier and smarter. Find out more at www.bwen.com
Featured Product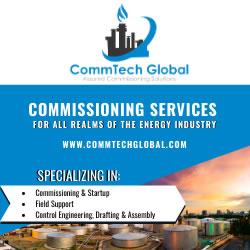 CommTech Global Solutions, LLC, provides professional and reliable commissioning services to customers in all realms of the energy industry. We blend our skills in engineering and technology with innovative business models, offering a complete range of services to assist you for a successful and in compliance operational startup. Consolidation of all our service domains gives our clients a comprehensive set of expertise and far-reaching experience on each project.