The Geothermal Water Source Heat Pump has been upgraded for improved installation, serviceability and reliability. Features include an all-aluminum evaporator coil resists formicary corrosion, capacities from 2 to 5 tons, with Energy Efficiency Ratings of up to 37.0 (GWHP-PL), and Coefficient of Performance Ratings of up to 5.8 (GWHP-PL). Units are available in vertical, horizontal and counterflow configurations.
Londonderry, New Hampshire - Bosch Thermotechnology Corp. announced today that upgrades to its SM Series, two-stage geothermal water source heat pump are now available.

Bosch redesigned its SM vertical and counterflow cabinets with an increased focus on serviceability and reliability, with front water connections and an all-aluminum air coil to resist formicary corrosion. Bosch also redesigned the internal layout for easier access through the front panel to components most often requiring service or adjustment.
The newest models of the SM Series come in cooling capacities ranging from 2-to-5 ton packaged vertical, counterflow, and horizontal units, allowing for a variety of configurations in residential applications. Plus, each Greensource unit is recognized as ENERGY STAR Most Efficient, with best-in-class performance, Energy Efficiency Ratings (EER) of up to 37.0 (part load) and 28.0 EER (full load), and Coefficient of Performance (COP) of up to 5.8 (part-load) and 5.5 (full-load) GWHP. This equates with lower operating costs to save homeowners money.
The fiber-free, closed-cell insulation provides thermal and acoustic insulation while also improving air quality. The redesigned model means operation is whisper-quiet, with sound levels as low as 52 dBA (comparable to the clicking noises produced by typing on an average computer keyboard).
Along with the Bosch-designed acoustic insulation, the SM Series utilizes a variable speed standard ECM blower motor. This feature seamlessly adjusts to maintain constant airflow and comfort. Plus, the innovative filter rack is easy to access and houses a two-inch MERV-8 filter to further improve indoor air quality.
Coupled with more than 10 safety features and backed with a ten-year limited warranty on parts and labor, Greensource provides a total solution in energy-efficient home comfort.
Geothermal heat pumps are designed and built in Boschs ISO 9001 and ISO 14001 certified facilities in Fort Lauderdale, Florida. They serve as a platform for renewable energy products in a residential comfort control system. CDi series model SM heat pump was awarded ENERGY STAR® 2016 Most Efficient product recognition. The new CDi Series meets ENERGY STAR Tier 3 requirements, making it eligible for up to a 30 percent federal tax credit*.
* See www.Boschheatingandcooling.com for details.
Contact:
Craig Lazinsky
Bosch Thermotechnology
Phone: +1 603-965-7445
craig.lazinsky@us.bosch.com
Like Bosch on Facebook: Facebook.com/BoschHeatingCooling/
Follow Bosch on Twitter: Twitter.com/BoschHVAC
Watch Bosch YouTube: YouTube.com/user/BoschHeatingCooling
About Bosch Thermotechnology
Bosch Thermotechnology is a leading source of high quality heating, cooling and hot water systems. The Company offers Bosch tankless, point-of-use and electric water heaters, Bosch and Buderus floor-standing and wall-hung boilers, Bosch and FHP geothermal systems as well as controls and accessories for every product line.
Bosch Thermotechnology is committed to reinventing energy efficiency by offering smart products that work together as integrated systems that enhance quality of life in an ultra-efficient and envi-ronmentally friendly manner. For more information, visit www.boschheatingandcooling.com.
About Bosch
Having established a regional presence in 1906 in North America, the Bosch Group employs some 28,700 associates in more than 100 locations, as of April 1, 2015. In 2014, Bosch generated consoli-dated sales of $11.3 billion in the U.S., Canada and Mexico. For more information, visit www.boschusa.com, www.bosch.com.mx and www.bosch.ca.
The Bosch Group is a leading global supplier of technology and services. It employs roughly 375,000 associates worldwide (as of December 31, 2015). According to preliminary figures, the company generated sales of more than $77 billion (70 billion euros) in 2015. Its operations are divided into four business sectors: Mobility Solutions, Industrial Technology, Consumer Goods, and Energy and Building Technology. The Bosch Group comprises Robert Bosch GmbH and its roughly 440 subsidiaries and regional companies in some 60 countries. If its sales and service partners are included, then Bosch is represented in roughly 150 countries. This worldwide development, manu-facturing, and sales network is the foundation for further growth. In 2015, Bosch applied for some 5,400 patents worldwide. The Bosch Groups strategic objective is to deliver innovations for a connected life. Bosch improves quality of life worldwide with products and services that are innovative and spark enthusiasm. In short, Bosch creates technology that is "Invented for life."
Additional information is available online at www.bosch.com, www.bosch-press.com and twit-ter.com/BoschPresse.
Exchange rate: 1 EUR = $1.1095
###
Featured Product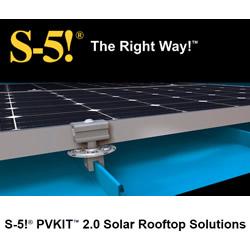 The concept of combining PV arrays with standing seam metal roofing is growing-for good reasons. Metal roofs have a life expectancy of more than 40 years. Shouldn't the mounting system last as long? With S-5! zero-penetration attachment technology and PVKIT 2.0, the solarized metal roof is the most sustainable system available -and without compromising roof warranties! PVKIT 2.0 is the also the best solution for attaching PV modules directly to any exposed fastener metal roof.