NEW YORK, NY -- May 13, 2016 -- Sealed, an energy software company based out of the NYU Tandon School of Engineering cleantech incubator called NYC ACRE, announced today the launch of Sealed Pay As You Save (Sealed PAYS®), the first program that invests in energy savings resulting from residential efficiency improvements. Sealed guarantees these savings to customers by leveraging its proprietary software and analytics.

Sealed PAYS will enable New York homeowners to benefit from up to $7.5 million in energy-saving improvements. The initial credit facility is provided by the New York Green Bank, part of Governor Cuomo's Reforming the Energy Vision ("REV") initiative.
"Right now, inefficient homes are wasting billions of dollars a year," said Andy Frank, Founder and President of Sealed. "This fund is the first step towards turning this waste into a real energy resource that can be valued by both consumers and financial markets."
"Sealed is an excellent example of the type of innovative business model that has emerged - and will continue to emerge - as the principles of REV begin to impact the market," said NY Green Bank President, Alfred Griffin. "NY Green Bank looks forward to watching Sealed grow its model in an underserved market and to working with other clean energy and efficiency companies seeking to grow their business by increasing deployment of clean energy in New York State."
Sealed calculates energy savings via patent-pending analytics that leverage machine-learning principles to accurately predict energy usage. Sealed then guarantees these savings by replacing customers' utility bills with a Sealed bill based on their past usage, adjusted for weather and energy prices.
"Sealed is changing the way that customers engage with energy. Through an exciting new energy billing relationship, they are proving that 'energy software company' is the new ESCO," said Ed White, Vice President, New Energy Solutions at National Grid. "National Grid could not be more excited to be a partner with Sealed in meeting the New York's Reforming the Energy Vision goals."
Sealed customers receive a home energy assessment that determines the amount of energy they can save and the improvements that will improve the comfort, health, and safety of their home.
"My home is really drafty and cold during the winter. I wanted to fix the problem, but didn't want to pay cash or take out a loan to pay for it," said Tom Schaper of West Islip, a retired steamfitter and one of first customers to sign up. "It's great that Sealed PAYS gives me a better home, and I'll still pay about the same amount for energy as I did before."
Sealed currently serves customers in Nassau, Suffolk, Westchester, Orange, Rockland, and Putnam counties.
"Sealed is a very creative ACRE company that has cleverly created a new financial model for homeowners," said Pat Sapinsley, Managing Director Cleantech Initiatives, NYC ACRE. "It is a truly win-win model where the homeowner, the utility and Sealed all reap the benefits of energy efficiency upgrades. They are able to do the least disruptive work for the most impactful benefits, including homeowner comfort, as well as savings."
NYC ACRE is home to 17 startup companies, and another 16 have graduated to larger facilities or been acquired. Together, these 33 companies have generated more than $26 million in revenue, employed more than 290 people, and raised more than $92 million in private capital, $6.2 million in public funding. For more information on NYC ACRE and on NYU Tandon incubators, visit engineering.nyu.edu/business/incubators.
About Sealed
Sealed was founded in New York in 2012 with a simple purpose: to make home comfort improvements a no-brainer. No one wants to live in a home with stuffy rooms or freezing floors, but too often it's an expensive hassle to address these problems. That's where we come in. With Sealed, home comfort projects are easy, affordable, and risk-free. A well-insulated and sealed home is not only more comfortable, but also requires less heating and cooling. We're so confident that your home will save energy, we're willing to put our money where our mouth is: we pay most or all of your project cost, and you use your energy savings to pay us back. With Sealed, there are no loans or enormous checks for home comfort.
About the New York University Tandon School of Engineering
The NYU Tandon School of Engineering dates to 1854, when the NYU School of Civil Engineering and Architecture as well as the Brooklyn Collegiate and Polytechnic Institute (widely known as Brooklyn Poly) were founded. Their successor institutions merged in January 2014 to create a comprehensive school of education and research in engineering and applied sciences, rooted in a tradition of invention, innovation and entrepreneurship. In addition to programs at its main campus in downtown Brooklyn, it is closely connected to engineering programs in NYU Abu Dhabi and NYU Shanghai, and it operates business incubators in downtown Manhattan and Brooklyn.
Urban Future Lab and NYC ACRE
Part of NYUs Tandon School of Engineering, the Urban Future Lab (UFL) is New York Citys hub for smart cities, smart grid and clean energy. It also hosts programs focused on educational, policy and market solutions to the issues of sustainability. NYC ACRE is the city's premier cleantech business incubator, housed at UFL. ACRE supports innovative startups that provide solutions to our most pressing climate and energy challenges while creating green jobs. ACRE is dedicated to growing an ecosystem of mission-driven start ups that advance the city as a role model for a low-carbon future. UFL and ACRE are supported by NYSERDA, NYCEDC, and National Grid, along with Tandons general incubator sponsors Lowenstein Sandler and Cushman Wakefield. For more information, visit http://ufl.nyc.
Featured Product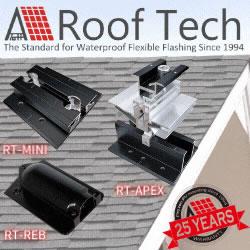 Now Roof Tech brings you the most innovative, watertight mounting systems ever developed for solar photovoltaic systems. Designed and manufactured exclusively for us by Japan's longtime leader in roofing technologies, Roof Tech products are 100% code-compliant and offer fast, simple installation and huge savings on shipping costs due to their compact, rail-less design. Learn more about our full line of versatile PV mounting solutions now available for residential installations. The next generation in rooftop solar mounting solutions."