• China pushed the global wind market to new heights in 2015, representing almost half of new wind installations globally and producing a total annual capacity of 30.5 Gigawatts • However, after focusing on increasing its installed capacity, the country now aims to shift its focus from scale expansion towards quality and efficiency, says analyst
LONDON, UK (GlobalData), 17 May 2016 - China took the global wind market to new heights in 2015, as it represented almost half of the new global wind installations, with a total annual wind capacity of 30.5 Gigawatts (GW), according to research and consulting firm GlobalData.

The companys latest viewpoint* states that the next largest wind capacity installer in 2015 was the US, with 8.6 GW, followed by Germany, Brazil and India, with 6.1 GW, 2.6 GW, and 2.6 GW respectively. China is expected to maintain its leading position in 2016 with an annual installed capacity of 23 GW, aided by a supportive regulatory scenario, low average turbine prices, and transmission infrastructure development.
Ankit Mathur, GlobalDatas Practice Head for Power, states that: "After focusing on increasing its installed capacity, Chinas 13th Five Year Plan has raised the 2020 wind target to 250 GW, and aims to shift the focus from scale expansion towards quality and efficiency. Indeed, the Operations and Maintenance (O&M) market in China, and all over the world, is poised for a growth phase.
"Most original equipment manufacturers witnessed an increase in service revenue in 2015 over 2014, as turbine maintenance continued to provide steady revenue. Companies such as Gamesa, Vestas and Nordex performed strongly in 2015 in terms of O&M revenues."
The analyst adds that revenue opportunities are motivating technological innovations and service improvements to meet the dynamic needs of the wind industry O&M business.
Mathur continues: "This motivating factor seems to be producing results, as O&M revenue has been increasing quarter on quarter, and turbine manufacturers are aggressively targeting this market."
China is well on track to meet and even exceed its future wind targets, with GlobalData recently projecting that the country would have a cumulative installed capacity of 495 GW by 2030.
Featured Product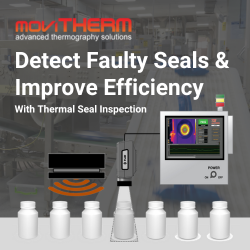 MoviTHERM's Thermal Seal Inspection (TSI) solution provides precise and reliable detection of defects in a variety of packaging types, including pouches, bags, blister packs, bottle caps, and more. By detecting defects in your packages, the TSI solution helps increase efficiency in your production line and ensures top-quality packaging is delivered to your customers every time. With state-of-the-art technology and an experienced team, MoviTHERM is dedicated to delivering accurate inspection solutions and peace of mind to its clients. Contact MoviTHERM today to learn more about their thermal seal inspection solution.