Natural Power marks the launch of new software tool, Portal, to US market at WINDPOWER 2016.
Natural Power is set to take WINDPOWER 2016 by storm later this month. Exhibiting at booth 4747 between 23rd - 26th May at the Ernest N. Morial Convention Center, New Orleans, Natural Powers Vice President of North America Operations, Holly Hughes, will present a session in the Thought Leaders Theater 'Empowering tools for effective asset management. This session will take place on Wednesday 25th May at 14.30hrs-14.55hrs, and will also mark the launch of the companys new 'Portal* software in the US.

Natural Powers US team brings over 60 years of combined experience in the renewable energy industry. From its offices in Saratoga Springs, New York and in Seattle, the business has delivered due diligence services for over 180MW of onshore wind in the last quarter alone, and continues to expand across the US. As such, the team, headed up by President of North American Operations, Jim Adams, is eager to be attending and contributing to WINDPOWER 2016. Jim said: "We are delighted to be attending WINDPOWER2016. It is an exciting time for the renewable energy industry in North America, and we have so much experience, learning and technology to share.
"Not only can we breathe new and fresh operations-based expertise into the market through our work for clients, but we also offer a real, top tier, one-stop-shop when it comes to renewable energy consultancy with energy yield, technical services, due diligence, asset management and operational support services accepted by the major banks and sponsors alike. WINDPOWER 2016 provides us with the perfect platform to showcase our capabilities."
Natural Power will also host a craft beer reception as part of the Exhibition Happy Hour on Wednesday 24th May from 16.00hrs-18.00hrs. Serving Lazy Magnolia Southern Pecan and NOLA Hopitoulas from the keg, visitors are welcome to join the reception at the Natural Power booth 4747.
The US wind industry just experienced one of its best quarters ever, and combined with the best policy it has ever known, the wind industry is poised to take off. WINDPOWER 2016, hosted by the American Wind Energy Association (AWEA), brings together world-renowned keynote speakers with industry to deliver an exciting conference programme including an industry showcase, education stations, and the emerging leader programme in addition to a range of pre-conference seminars. Visitors to WINDPOWER2016 can download the App http://eventscribe.com/2016/WINDPOWER/aaConferenceApp.asp to manage their visit and timetable.
Speaker bio - about Holly Hughes
Holly is responsible for energy and operations services at Natural Power in North America. She has worked for over a decade in energy engineering with broad and global wind industry experience, and has directed over 160 wind energy yield assessments and technical due diligence for well over 1 GW of operating wind assets. Holly holds a Masters in Mechanical Engineering and a Graduate Certificate in Energy Analysis and Policy from the University of Wisconsin at Madison. She is also a registered Professional Engineer.
*'Portal, an exciting new information management tool that gathers and sorts multiple streams of asset data in to one simple and easy to use platform. The online, mobile solution, allows users to view key project information at a glance, anywhere there is an internet signal. Streamlining project knowledge, such as operational reporting, site reporting, site access, work control, and health and safety management, Portal also provides a GIS mapping service and data storage and management. Thus reducing time spent gathering and collating information from a variety of sources, and enabling users to focus on higher value issues.
Ted Leeming, Managing Director at Natural Power, said: "We have used our 20 plus years of experience in gathering and interpreting information to develop this ground-breaking technology that will help our customers to optimise the success of their operations. Portal will offer users greater control by allowing them to plan more effectively, ultimately maximising the potential from renewable energy and infrastructure projects.
"The development and launch of Portal is instrumental in our long term strategy to help our clients in achieving their operational efficiency and competitiveness objectives to ensure that low carbon energy technologies can compete in the wider energy market."
Featured Product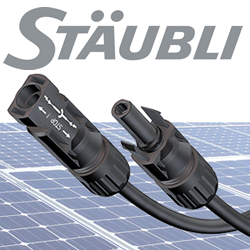 ​Stäubli Electrical Connectors are used on more than 300 GW, over 50% of the PV capacity worldwide. The MC4 family of UL and TUV listed products include connectors, in-line fuses, branch connectors, cable assembly and more.