New Pilot Study Results Show Savenia Ratings Reduce Solar Customer Concerns Regarding System Costs, Fees
Savenia, an award winning provider of energy and environmental impact ratings announced today exciting new results from a 2nd pilot study assessing the impact of Savenia Solar Ratings on prospective solar customers. The pilot study demonstrated that independent solar ratings from Savenia, when presented alongside a standard solar agreement to prospective buyers, reduced some of the most common concerns buyers face around system costs and fees when making the decision to go solar.

This builds on the results from Savenias first pilot study, which demonstrated Savenia Solar Ratings increased interest in purchasing a new solar system and increased trust in solar proposals.
The study was conducted online from March 18 - 23rd 2016 with 500 single family homeowners in solar friendly states. Respondents were randomized to receive a solar lease proposal or a solar lease proposal with a Savenia Solar Rating. Savenia Solar Ratings emphasize the positive cash flow value a new solar system can bring to a home. In this study, homeowner comments were analyzed to identify key issues to moving forward with a solar proposal. Concerns on system costs and fees were dramatically reduced in the group that received a Savenia Rated proposal.
'The results of our pilots with Savenia Solar Ratings demonstrate the power of certification effects, the well-known impacts of 3rd party marks that signal trust, quality and often support higher pricing on associated products and services, said John Jabara, Founder of Savenia. 'We look forward to helping solar installers use Savenia Solar Ratings to build customer confidence, provide exceptional service and convert more roofs into sources of income for homeowners.
Interested partners can request more information at http://saveniahome.com/channel-partner/.
About Savenia
Savenia helps solar installers & home sellers capture and communicate the full value of solar and other efficiency upgrades. Savenia provides customized rating labels, marketing materials and online marketing to help sell faster, provide higher client service and capture the full value of solar homes. A two-time winner of the US Department of Energy SunShot Award, Savenia has rated homes nationwide including The White House. For more information contact John Jabara at Savenia at (855)-SAVENIA or by email at info(at)savenialabs(dot)com. Connect with Savenia Labs on Facebook and Twitter.
Featured Product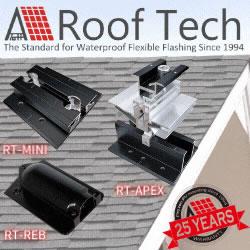 Now Roof Tech brings you the most innovative, watertight mounting systems ever developed for solar photovoltaic systems. Designed and manufactured exclusively for us by Japan's longtime leader in roofing technologies, Roof Tech products are 100% code-compliant and offer fast, simple installation and huge savings on shipping costs due to their compact, rail-less design. Learn more about our full line of versatile PV mounting solutions now available for residential installations. The next generation in rooftop solar mounting solutions."