Leading solar training centre demonstrates non-toxic storage benefits in the classroom
OJAI, Calif., May 24, 2016 /PRNewswire/ -- US based SimpliPhi Power continues to gain traction in the Australian market with its award-winning cobalt-free lithium-ion storage solutions now incorporated as part of GSES' (Global Sustainable Energy Solutions Pty Ltd) training courses. GSES is a renewable energy engineering, training and consultancy. It has recently launched the grid-connect PV with battery storage course at their training centre in Botany (NSW), as well as a purpose built mobile training unit. GSES' practical training for this course includes the SimpliPhi lithium ferro phosphate batteries.

"We chose SimpliPhi because of their strong reputation and use in military applications. It is important to demonstrate products currently available in the market and which we were sure would perform given a proven track record and strong reputation," said Chris Martell, Principal Engineer of GSES. "We have incorporated SimpliPhi batteries as part of our training centre as well as in our new mobile training unit. The GSES mobile training facility is the first-of-its-kind in the Australian market, and it will commence in Brisbane and extend our training to those users beyond our Sydney base."
SimpliPhi is known for its compact, scalable, lightweight form factor, 100 percent depth of discharge, over 98 percent efficiency charge and discharge rate and an extended operating temperature range of -20 to 60 C (-4 to 140 degrees F), all without requiring the ventilation or cooling characteristic of other lithium-ion and lead acid batteries. GSES students at both the Botany center and mobile training unit actually wire and configure these SimpliPhi batteries, perform testing and commissioning and wire in a load to complete the system.
"SimpliPhi is gaining momentum in the burgeoning Australian solar plus energy storage market. This new GSES training course is the next phase in preparing a host of installers to integrate our proven and safe storage solution for Australians looking for greater energy independence," said Catherine Von Burg, CEO of SimpliPhi Power. "As part of our commitment to the Australian market, we will be joining the industry's leaders at the upcoming Australian Energy Storage Conference, where our solutions will be on display as well as their many benefits highlighted during my case presentation."
Attendees of the Australian Energy Storage Conference & Exhibition, held at the Australian Technology Park near Sydney, can learn more about SimpliPhi during the case study presentation on June 2 at 11:45am local time: MicroGrid Deployment - Maui Brewing Company: Safety, Accessibility & Power Security in the Age of Climate Change, Cyber Attack & Political Uncertainty.
SimpliPhi Power has partnered with DPA Solar to distribute its proven energy storage technology in Australia and New Zealand. DPA Solar provides its vast network of Australia and New Zealand electricians and commercial businesses with SimpliPhi Power's lithium ferrous phosphate battery systems. For more information, visit: http://dpasolar.com.au/batteries.html
About SimpliPhi Power
Founded in 2002, SimpliPhi Power designs and manufactures award-winning clean energy storage and management systems that utilize non-toxic lithium ferrous phosphate chemistry. SimpliPhi Power storage system components are UL certified, and have been rigorously tested and deployed by the U.S. Army and Marine Corps. For more information, please visit SimpliPhiPower.com and follow us on Twitter @SimpliPhiPower or on Facebook and LinkedIn.
About GSES
Global Sustainable Energy Solutions Pty Ltd (GSES) leads Australia in renewable energy engineering, training and consultancy. Established in 1998, GSES specialises in photovoltaic (PV) system design and auditing, as well as in solar training, consulting, engineering and publications.
About DPA Solar
Operating as a solar distributor since 2010, DPA is a specialist supplier of inverters, racking & panels to solar electricians Australia wide. DPA Solar has a keen focus on energy storage products and PV mounting systems and is a dealer for major international brands including SimpliPhi Power. For product range details, visit www.dpasolar.com.au or call Richard Barker on 1300 447 500.
Featured Product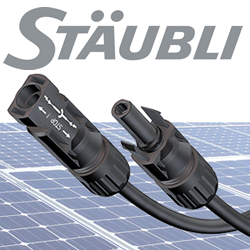 ​Stäubli Electrical Connectors are used on more than 300 GW, over 50% of the PV capacity worldwide. The MC4 family of UL and TUV listed products include connectors, in-line fuses, branch connectors, cable assembly and more.