Growing demand for highly-efficient yet lightweight transformers has opened up a new application for Wickeder Westfalenstahl's proven cold-rolled cladding. When used in the coil winding, the company's copper-clad aluminium can dramatically reduce the weight of a transformer without compromising on performance.
Ever-tightening efficiency regulations around the world have seen the size of transformers gradually creep up in recent years. Without radical changes to design, manufacturing process, or materials, a simple increase in transformer size can significantly reduce resistance and, therefore, losses. However, as the size of a transformer increases, typically so too does its weight. In many applications this is not an issue but for pole-top distribution transformers, traction transformers or transformers for aerospace applications, weight is vital.

Enter German metals specialist Wickeder Westfalenstahl, whose winding wires made from copper-clad aluminium offer lightweight coils thanks to the aluminium core and strong connectivity thanks to the copper cladding. In effect, the combination brings out the main advantages of both materials for an exceptionally high-performance yet lightweight transformer.
"We have been supplying copper-aluminium combinations for busbars and connectors in switchboards, distribution boards, substations and battery banks to all the major players in Europe and North America for more than 30 years. However, the benefits of copper-clad aluminium for certain types of transformers are generally not very well known. This is something we aimed to change through our participation at CWIEME Berlin," says Kevin Jürgens from Wickeder Westfalenstahls product technology department.
Jürgens held a seminar at CWIEME Berlin - the worlds leading exhibition for transformer manufacturing - entitled 'Transforming ideas: clad metal solutions. During his session, he presented how the cladding process works and which cladding designs Wickeder Westfalenstahl can produce, as well as specific cladding solutions for different transformer applications.
Total transformer solutions
In addition to learning about the benefits of this material technology in a seminar, visitors were able to feel for themselves how light copper-clad aluminium is and take away samples from the Wickeder Westfalenstahl stand. The company was joined on this stand, sponsored by the German Electrical and Electronic Manufacturers Association ZWEI, by several other German suppliers to the transformer manufacturing industry, encompassing steel cores and insulation materials.
"This cooperation is essential in changing perceptions of Wickeder Westfalenstahl from just a metals supplier to a transformer developing company," Jürgens says.
Exciting new applications
Beyond transformer manufacturing, other important new weight-sensitive applications for Wickeder Westfalenstahls cold-rolled copper-clad aluminium include wind power generators and motors for hybrid and electric vehicles. In each case it is an opportune time for manufacturers to consider use of clad materials as Europe and North Americas ageing distribution transformers approach the end of their lives and require replacement, while the wind power generation and hybrid and electric vehicles industries are only just starting to take off.
"It happens occasionally that potential customers say to us, if we had known you also cater to our industry just a few months ago, we would have had some perfect business for you. We cannot let excellent opportunities like this for us and our customers pass by again, which why we wanted to take part in CWIEME Berlin for the first time this year. The exhibition was recommended to us by ZVEI and several of our existing customers because we have nearly all people there who are potential customers. At CWIEME Berlin there is also an important mix of technicians, with whom we can discuss our products, as well as the decision markers. If we went to a simple metals fair, for example, we would probably only meet the purchasing people. At CWIEME Berlin we enjoyed speaking to both technicians and decision-makers about their challenges and our solutions and how we can become an even better supplier to CWIEME industries in the future," he concludes.
Featured Product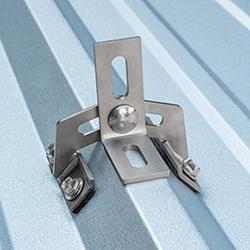 Explore new lines of income for your solar installation business with QuickBOLT's Stone Coated Steel roof mounts designed in partnership with metal roof manufacturers themselves. These SCS roof mounts work on all metal tile profiles and will help you bring in money you're missing out on. By not driving into the roofing material, QuickBOLT's Stone Coated Steel roof hooks maintain the integrity of the roof. Install with ease and confidence knowing your roof is protected against the harsh elements that these hooks are designed for.