Award success for Natural Power's Brian Farrell at last night's Scottish Renewables Young Professionals Green Energy Awards in Glasgow.
Natural Powers Brian Farrell, Construction Project Engineer, has won the Engineer Award at last nights Scottish Renewables Young Professionals Green Energy Awards which took place at the Glasgow Science Centre.

The awards played host to over 300 guests, and recognised the contribution being made by the next generation of thinkers, shapers and decision makers.
Jenny Hogan, Director of Policy at Scottish Renewables said: "The finalists are among the brightest up-and-coming stars in the renewable industry today, and all showed a very special spark."
Brian was recognised for this award thanks to his outstanding design solution for a recent hydro project which allowed a significant project to proceed to commissioning to the benefit of the clients and the wider renewables sector.
David Wright, Design and Advisory Services Manager at Natural Power, said: "The Design and Advisory team at Natural Power is a talented set of engineers, technicians and technology specialists, and it's very satisfying to see Brian receive the recognition due to him. Well done to Brian and the rest of the team!"
Through 2015, Brian developed the hydraulic analysis and pipeline design for a six intake run-of-river hydro scheme which produces 3MW of power through Pelton and Turgo turbines. This scheme presented unique challenges due to its environmentally sensitive location within a National Park. Brian worked to an ambitious programme to complete the system design to allow the scheme to be commissioned before a FiT degression in December 2015.
Brian, who works within the Design and Advisory Services team, holds a BEng in Civil Engineering and MSc in Renewable Energy. He is responsible for the design of renewable projects across the UK, US and Ireland. Since starting with Natural Power in 2013 he has engaged in wind, hydro and solar projects, with a focus on infrastructure design.
Featured Product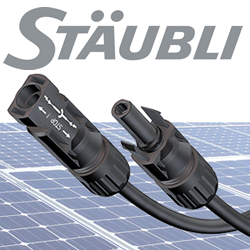 ​Stäubli Electrical Connectors are used on more than 300 GW, over 50% of the PV capacity worldwide. The MC4 family of UL and TUV listed products include connectors, in-line fuses, branch connectors, cable assembly and more.