Retrofittable Device Converts The Water Heater Into A Smart, Networked And Energy-Efficient Appliance
(McLean, Virginia) - Controlling and maintaining the homes water heater just got infinitely easier, more convenient - and smarter - with the launch of the Aquanta Water Heater Controller, a first-of-its-kind system that enables remote and convenient control of a water heater via a smart phone or web-enabled device. As the Nest thermostat does for HVAC systems, Aquanta gives users a much more efficient, versatile way to use (or turn off and NOT use) their water heater, the 2nd largest consumer of home energy, while also saving money on their household energy bills.

"Aquanta turns your dumb water heater into a smart, energy-efficient one - heating water only when you need it and saving you money when you dont. All from the convenience of your smart phone or tablet," said Matt Carlson, CEO of Aquanta Inc. "Until now, water heaters, despite their ubiquity and role as hub of the homes plumbing network, have largely been stuck in the basement and excluded from the 'smart home trend. Aquanta is about to change all of that."
Aquanta product attributes include:
• Convenient control from a smart phone - monitor and change settings from anywhere
• Smart technology that learns homeowners hot water usage behavior and heats water accordingly
• Manual scheduling for turning the water heater on or off to match a changing schedule
• Dashboard showing hot water usage and when availability is low
• Maintenance alerts, including water heater leak detection
Heres how it works: the Aquanta controller easily installs onto a homes existing water heater. Its enabling technology is its proprietary "Enthalpy Sensor", which can accurately measure both energy going into a water heater as well the energy being used. Aquantas software uses this sensor data to "learn" and control the water heating according to a homeowners usage patterns.
Aquanta is designed for either easy professional installation or for self-installation by DIYers with basic plumbing skills. The device is compatible with nearly all electric water heaters and gas models that have electronic ignition controls (see Aquanta website for more details).
Aquanta Inc. has spent the past two years developing Aquanta and is making the product available for pre-purchase for $149 on its website, www.aquanta.io, beginning today. The first 1,000 pre-purchase customers will receive a free leak detection sensor ($25 value), and Aquanta is projected to ship beginning in late July 2016.
About Aquanta Inc.
McLean, VA-based Aquanta Inc. (formerly Sunnovations Inc.) develops innovative products and technologies that address climate change and enhance energy efficiency, with specific focus on the energy usage and inefficiencies inherent in our water heating and plumbing systems. For more information on Aquanta, please visit www.aquanta.io.
Featured Product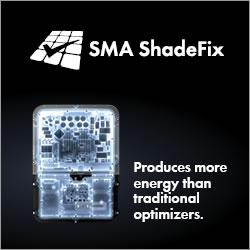 A recent university study showed SMA ShadeFix optimization produces more energy than traditional optimizers. It also utilizes far fewer components, reducing the need for costly service visits. Systems with ShadeFix optimization and SunSpec certified shutdown devices are the ideal solution for residential and commercial PV systems. Visit SMA's website to learn more and download the whitepaper.