Energy industrys groundbreaking event series will be featured on Toshiba Vision Screens in Times Square from June 4 - June 17. Jigar Shah and Audrey Zibelman top list of more than 40+ confirmed speakers.
EnerKnol, Inc. today announced that the fourth annual New York Energy Week, taking place June 13-17, 2016, has added several new energy industry-leading speakers across a packed agenda of 12 official NYEW Series events covering a range of energy sectors, topics and technologies including Solar Financing, Demand-Side Management, Utility 2.0, Oil Markets, Smart Cities & Startups, Energy Policy Data, and much more.

In addition, Toshiba will play a New York Energy Week video every five minutes on its Toshiba Vision Screens in Times Square starting June 4, 2016, further building awareness and excitement for New Yorks leading energy industry summit as the countdown begins towards its opening on June 13.
New industry leaders confirmed to speak at the event include:
Jigar Shah, Co-Founder, Generate Capital
Caroline Angoorly, COO & Managing Director, NY Green Bank
Kenneth Daly, President, National Grid
Nora Mead Brownell, former FERC Commissioner
Brad Jones, CEO, New York ISO
Gordon van Welie, President and CEO, ISO New England
Audrey Zibelman, Chair, New York Public Service Commission
"Featuring an exciting and engaging schedule of events, NYEW brings together representatives from the industrys many diverse sectors and encourages collaboration and discussion of new technology, changing policy, and future developments. With its mission to spur business development, job creation, and innovative solutions, this event strengthens both our citys economy and position as a leader in sustainability, and I applaud its organizers and participants for their dedication to our future," said Bill de Blasio, Mayor of New York City.
"With yet another stellar lineup at New York Energy Week this year, we are all eager to unite and collaborate on how the industry can solve some of its most vexing challenges and realize its most promising opportunities," said Angelique Mercurio, founder and CEO of EnerKnol. "With these thought leaders addressing some of the most important issues faced by the industry today, we expect 2016 to be the most productive New York Energy Week yet."
Four Years of Breaking Down Industry Barriers
New York Energy Week breaks down barriers across the historically siloed sectors of the energy industry to catalyze the advancement of the energy industry. Unlike traditional business conferences, New York Energy Weeks distributed hosting model enables industrys leaders to facilitate conversations on the key challenges and opportunities faced by the energy sector with other market participants, government agencies, research firms and other members of the energy community.
Harnessing New York Citys role as the hub of global commerce and finance, as well as New York states prominent position as a driver of energy policy innovation with its Reforming the Energy Vision (REV) initiative, NYEWs previous years have featured thought leadership from industry stakeholders including the US Department of Energy, Tesla, UK Trade & Investment, Morgan Stanley, Google and OPower, to name a few. Just as New York is innovating across the energy landscape, New York Energy Week is helping steer the dialogue regarding policy, business, technology and culture in our changing energy landscape.
New York Energy Week 2016 sponsors and hosts include Con Edison, NYSERDA, PA Consulting Group, Energy Focus, DLA Piper, The Spry Group, National Grid, Toshiba, GE Energy Financial Services, CME Group, Deloitte, Stroock & Stroock & Lavan, Danish Cleantech Hub, NYU School of Professional Studies Center for Global Affairs, ACRE, Goldman Sachs, and EnerKnol partner RTO Insider.
ABOUT ENERKNOL, INC.
EnerKnol, Inc. is a New York-based energy policy data and analytics company conceived to solve the vast market need for real-time access to the critical regulatory information required to make decisions in all vertices of the energy industry, from oil & gas, utilities, environmental markets, renewables, and beyond. EnerKnol created New York Energy Week in 2013 as part of its broader vision to drive markets forward through cross-sector collaboration among the diverse energy industry. Follow on Twitter at @EnerKnol and @NYEnergyWeek.
ABOUT TOSHIBA VISION
Prominently positioned below the world-famous New Year countdown ball in New York Citys Times Square business and entertainment district, Toshibas massive dual LED signboards, known collectively as "TOSHIBA VISION," serve a variety of promotional and public-service functions. In addition to illuminating the annual New Year countdown for upwards of 1 billion celebrants worldwide, the Interlocking System connects both boards in brilliant seasonal displays and animated sporting events. From atop One Times Square Building, one of the most valuable advertising locations in the world, TOSHIBA VISION ensures superb domestic and international media exposure, providing the Toshiba brand with unrivalled quantitative and qualitative promotional benefits. For more information on the TOSHIBA VISION LED signboards please visit http://www.facebook.com/ToshibaInnovation.
Featured Product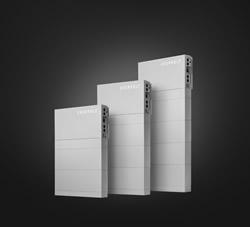 Extract maximum power production from every roof size and shape. HIT® AC Series combines the module efficiency of Panasonic solar panels with the intelligence of Enphase microinverters. A built-in IQ 7X microinverter with Individual MPPT (Module-level Power Point Tracker) tracking helps deliver an all-in-one module that offers design flexibility, reduced installation time, and a higher ROI. Field-replaceable microinverter with no DC wire management required yields lower cost of ownership.