GEs Authorized Distributor Clarke Energy Supplying Two Low-NOx Jenbacher J416 Gas Engines and Monsal* Anaerobic Digestion System to SUEZ Recycling and Recovery UK for the Eco Park Surrey Project Digester Plant to Annually Process 40,000 Tonnes of Food Waste for Surrey County Council Biogas Created by the Digester System Will Generate Renewable Electricity and Heat by the Gas Engines
MUNICH--(BUSINESS WIRE)--GE (NYSE:GE) today announced that global engineering and construction company M+W group has selected its Jenbacher gas engines and Monsal* advanced anaerobic digestion system for Surrey County Councils new "Eco Park" waste treatment and biogas-to-energy facility being built by SUEZ Recycling and Recovery U.K. in Shepperton, Surrey, England. The two low-NOx gas engines are being provided by Clarke Energy, GEs authorized distributor of Jenbacher gas engines. GE made the announcement at the IFAT trade fair taking place May 30-June 3, 2016, in Munich.

The Eco Parks anaerobic digestion facility will process 40,000 tonnes of food waste annually from households in Surrey. Supported by a waste infrastructure grant from the U.K. government, it will be located adjacent to an existing community recycling center, about 5 miles (8 kilometers) from London Heathrow Airport. With GEs Monsal anaerobic digestion system, the new facility will convert the food waste into biogas that can generate renewable electricity and heat. The biogas produced will be used to fuel two of GEs Jenbacher J416 biogas engines, which are configured to generate up to 50 percent of the common limit for NOx and will provide a total of 2.4 megawatts (MW) of electrical power. After powering itself, the Eco Park will supply energy to the national grid.
The Eco Park is being built on behalf of Surrey County Council and will supply baseload renewable power to the local distribution network while at the same time providing an alternative to landfill in the form of anaerobic digestion. In addition to the anaerobic digestion and CHP plant, the Eco Park also includes a 55,000-tonnes-per-year gasification facility with pre-treatment, a recyclables bulking facility and a new visitors center. The gasification system will be installed separately and will process municipal waste into a partially renewable combustible gas (known as syngas) for additional power production.
"GE is committed to helping municipal solid waste operators move towards energy neutrality, reduce their environmental footprint and meet regulations as more European countries introduce landfill bans on food waste," said Heiner Markhoff, president and CEO—water and distributed power for GE Power. "This project is a true testament to the strength of the GE Store, demonstrating how our ability to combine proven technologies across GE businesses allows us to provide one of the best possible solution for our customers."
For the new project, GEs scope of work will include the core Monsal process technology, training and plant commissioning. Clarke Energy will provide the two Jenbacher gas engines, which will be built in GEs facility in Jenbach, Austria, and containerized at the companys Veresegyház, Hungary, site. GEs Monsal solution includes GEs Re:Sep* separation technology, the hydrolysis pasteurization digestion for full biological treatment of the waste, high chemical oxygen demand/volatile solids conversion to biogas and AmmCycle* for the treatment of high-strength ammonia liquor.
About Clarke Energy
Clarke Energy is a leader in the engineering design, installation and long term maintenance of gas and diesel engine-based power plants. The company is authorized sales and service provider for GEs reciprocating engines in 17 countries. The company provides added value through engineering, installation and maintenance of facilities. Clarke Energy employs over 1000 staff and has over 5,000 MW of Jenbacher generation equipment operating in its operational areas. www.clarke-energy.com
About GE Power
GE Power is a world leader in power generation with deep domain expertise to help customers deliver electricity from a wide spectrum of fuel sources. We are transforming the electricity industry with the digital power plant, the worlds largest and most efficient gas turbine, full balance of plant, upgrade and service solutions as well as our data-leveraging software. Our innovative technologies and digital offerings help make power more affordable, reliable, accessible and sustainable.
For more information, visit the company's website at www.gepower.com. Follow GE Power and GEs water business on Twitter @GE_Power and @GE_Water and on LinkedIn at GE Power.
About GE
GE (NYSE:GE) is the worlds Digital Industrial Company, transforming industry with software-defined machines and solutions that are connected, responsive and predictive. GE is organized around a global exchange of knowledge, the "GE Store," through which each business shares and accesses the same technology, markets, structure and intellect. Each invention further fuels innovation and application across our industrial sectors. With people, services, technology and scale, GE delivers better outcomes for customers by speaking the language of industry. www.ge.com
Featured Product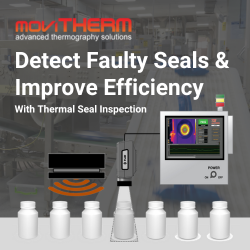 MoviTHERM's Thermal Seal Inspection (TSI) solution provides precise and reliable detection of defects in a variety of packaging types, including pouches, bags, blister packs, bottle caps, and more. By detecting defects in your packages, the TSI solution helps increase efficiency in your production line and ensures top-quality packaging is delivered to your customers every time. With state-of-the-art technology and an experienced team, MoviTHERM is dedicated to delivering accurate inspection solutions and peace of mind to its clients. Contact MoviTHERM today to learn more about their thermal seal inspection solution.