Now it's possible for many customers to pay less for solar than they pay for utility power and receive thousands in tax credits; Fixed payment options to start around $50/month1
SAN MATEO, Calif., June 2, 2016 /PRNewswire/ -- SolarCity (Nasdaq: SCTY) has unveiled a new solar loan program—available in 14 states -that will allow many customers to immediately pay less for solar each month than they previously paid for utility bills and pocket thousands in additional dollars from applicable tax credits. The company has leveraged its installation volume—SolarCity installed more residential solar in 2015 than the next 50 competitors combined—to negotiate extremely favorable terms on behalf of its customers.

"We can now offer a loan that makes it possible for many customers to pay less for solar from day one, and still receive thousands back in tax credits on top of that," said SolarCity CEO Lyndon Rive. "This program will allow thousands of additional customers across the U.S. to install solar this year and start saving money immediately, and we expect to work with multiple lenders that will allow us to expand to several new states by the end of the month with the same great terms for our customers."
SolarCity's new loans replace its popular MyPower product—which allowed SolarCity to provide more loans in 2015 than any other solar installer—with new options that include fixed payments and shorter terms. The new loans offer a range of features:
10-year loan with annual percentage rate as low as 2.99%.
20-year loan with annual percentage rate as low as 4.99%.
Customers can prepay their entire balance or prepay a portion of their loan to lower their monthly payments at any time, with no fees or penalties.
SolarCity's loans include the industry's best service package, including a 20-year warranty, production guarantee, and continuous monitoring.
SolarCity provides the industry's best mounting system and installation aesthetics, and backs up its agreements with the largest in-house service footprint in the industry, with 90 local operations centers.
SolarCity will provide and install a Nest Thermostat at no additional cost for qualifying customers.
SolarCity's new solar loans are available today in Arizona, California, Colorado, Connecticut, Delaware, Maryland, Massachusetts, New Hampshire, New Mexico, New Jersey, New York, Oregon, Rhode Island, Texas and Washington, D.C., and the company expects to announce new locations soon. Interested homeowners can contact SolarCity directly at 1-888-SOL-CITY (1-888-765-2489) for a free, no-obligation solar consultation or visit the company online at http://www.solarcity.com/residential.
About SolarCity
SolarCity (NASDAQ: SCTY) provides clean energy. The company has disrupted the century-old energy industry by providing solar power to homeowners, businesses and government organizations for less than they spend on utility bills. SolarCity gives customers control of their energy costs to protect them from rising rates. The company makes solar energy easy by taking care of everything from design and permitting to monitoring and maintenance. Visit the company online at www.solarcity.com and follow the company on Facebook & Twitter.
Featured Product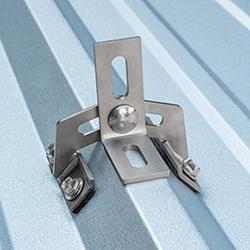 QuickBOLT Low Profile QuickBOLT with Microflashing™ is the industry's affordable, UL Certified Asphalt Shingle mounting system. The Microflashing™ is compressed by the collar on the bolt to create a water-tight seal. With an installation time of less than one minute, the Low Profile QuickBOLT allows installers to complete more jobs.