Moixa Technology, the UK leader in residential energy storage, today announced with ScottishPower, a ground-breaking pilot of Moixas smart battery Maslow product in customer homes, helping them to save money and use more of the energy they generate
London, 8 June 2016: Moixa Technology, the UK leader in residential energy storage, today announced with ScottishPower, a ground-breaking pilot of Moixas smart battery Maslow product in customer homes, helping them to save money and use more of the energy they generate. It also demonstrates how storage technology could address the challenges facing the UKs overstretched grid.

In pilots with major energy industry partners such as ScottishPower, British Gas, SSE PD, Good Energy, the government (DECC) and direct customer sales, Moixa has deployed 1MWh of its British-manufactured Maslow smart battery system, deployed across 500 sites, combined with solar panels. These smart batteries can be aggregated to provide a range of services and income, using the patented GridShare battery software platform.
Smart batteries mean a revolution for utilities. They are home storage units that enable customers to save money through accessing smart tariffs, store excess solar energy for use during peak hours or share batteries with the grid for a range of network saving benefits.
Moixa has deployed 47 Maslow energy storage systems for ScottishPower in partnership with BillSaveUK. Its GridShare software dashboard enables ScottishPower householders to view energy, battery and solar use in real time on a smartphone or iPad and identify improvement opportunities. This can lead in some cases to over 20% reduction in energy costs.
"Electricity is the only commodity that we cant store at scale. We need to develop more large-scale storage projects, like pumped-storage hydro schemes, but also smaller in-home storage ideas, like Moixas smart battery concept. As one of the UKs leading renewable energy companies, we plan to take a leadership role in the development of electricity storage. Our work with Moixa and BillSaveUK will allow us to understand how customers interact with electricity storage at home, and how systems like this can be tailored to offer real benefits for customers," said Neil Clitheroe, CEO Retail and Generation at ScottishPower.
Moixa has already delivered multiple storage projects for DECC, InnovateUK and many of the other biggest utilities, including British Gas, Good Energy and Co-Operative Energy. Moixa is also working with many of the new utility entrants, to use energy storage to lower customer bills. Other projects include:
• Over 175KWh of MASLOW storage systems installed in social housing in Oxford as part of a study with British Gas on new smart tariffs and local community energy flows, and showing benefits in reducing fuel poverty
• 250 storage systems installed in 2014/15 as part of a comprehensive demonstration for DECC on storage opportunities across private, social housing and small business, including with Good Energy
Secretary of State for Energy & Climate Change Amber Rudd, said: "Storage can help maximize the benefits and minimise the costs of secure affordable and clean energy in the UK".
Lord Bourne, Under Secretary for Climate Change, described the Moixa battery storage system as a "radical new business idea".
Further, a recent Smart Power report by Lord Adonis and the National Infrastructure Commission, identified potential £8bn/pa savings from storage, and cited Moixa and Tesla as leading examples in distributed storage.
Commentating on the Moixa-led project in Oxford, Sue Riddlestone, Chief Executive of Bioregional said, "Were proud to be part of a project which has now installed MASLOW systems with 175kwh total capacity in the community of Rosehill in Oxford, cutting carbon and bringing cost savings that have really benefitted local people. Our partners include British Gas and Scottish & Southern Energy Power Distribution." (see https://localisedenergyeric.wordpress.com/)
The projects have added to Moixas experience in the market, now with over 5 million run-time hours of MASLOW systems and deeper partnerships across multiple channels. The acquired data helps validate business models and asset finance scenarios for new smart tariff, GridShare incomes and end savings to customers.
As an early leader and significant innovator, Moixa has also developed a powerful portfolio of patents. These patents are valuable to Moixa and its partners such as third-party battery providers who integrate into the GridShare platform. Patents granted include aggregating batteries for grid services to create the much-talked-about Virtual Power Plants. It may interest readers that Moixa was developing patents for these VPPs as far back as 2008. Moixas patent portfolio is now cited by some 140+ international companies.
Bill Rumble, director at installers BillSaveUK added: "The UK renewables industry has weathered some stormy times of late, but as this pilot with Moixa and ScottishPower is demonstrating, the successful installation of smart batteries presents a viable route forward and potentially the start of a new era for domestic power generation."
With traditional utility models under threat by distributed energy generation, energy storage offers utilities and customers a major opportunity.
Simon Daniel, CEO of Moixa, commented: "Whereas renewables such as solar and wind have often been seen as a liability to generation networks, the arrival of storage batteries provides an asset not only to householders but also to the grid which can use batteries for balancing and other services. We will also shortly be announcing closing a round of finance which includes several former CEOs of Big6 utilities, which is great validation of how important energy storage is going to be in the new utility landscape."
About Moixa Technology
Moixa Technology is the UKs leading residential energy storage company, with over 10 years experience in delivering world class battery innovation, including launching the award winning USBCELL batteries which won the prestigious iF Gold Design award, gaining multiple patents on Smart Storage, DC Systems and battery aggregation, and delivering several major competitive R&D projects for DECC, InnovateUK, LCNF and NEA.
Maslow is an all-in-one smart energy storage system that is a 2-3KWh wall mounted module that is the size of a brief case at only 30 x 50 x 20 cm. Typically installed by an accredited MASLOW installer. MASLOW is available from www.meetmaslow.com or via a range of national distributors and partners, including Edmundston GreenTech, BillSaveUK, Adecoe, TH White, Rayotec, Energy Savings for You.
www.moixa.com / www.meetmaslow.com
Featured Product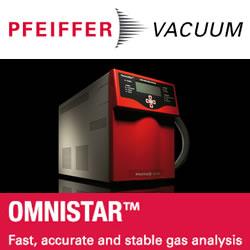 The Pfeiffer Vacuum OmniStar benchtop analysis system offers you a compact footprint, powerful software and Ethernet connectivity. It's the optimum solution for many real-time gas analysis applications. With the OmniStar, Pfeiffer Vacuum offers you a complete solution for gas analysis, in chemical processes, semiconductor industry, metallurgy, fermentation, catalysis, laser technology and environmental analysis. The turnkey OmniStar gas analysis system consists of heated, temperature-regulated gas inlet system, Quadrupole mass spectrometer, a dry diaphragm vacuum pump and HiPace turbopump. Unlike competing methods such as FTIR, OmniStar is suitable for qualitative and quantitative analysis of most gases.