Energy storage is helping grid operators maintain system stability and ensure efficient integration of renewable energy, report finds
BOULDER, Colo.--(BUSINESS WIRE)--A new report from Navigant Research examines the growing opportunities for energy storage systems (ESSs) to provide numerous services to the grid, with global market forecasts for power capacity, energy capacity, and revenue, segmented by region, technology, and application, through 2025.

Grid operators around the world are beginning to recognize the value that large-scale ESSs can provide, and utility-scale energy storage is expected to continue breaking into the mainstream electricity industry this year. As this occurs, the market is projected to move away from research and development (R&D) projects, pushing toward full commercial deployments. Click to tweet: According to a new report from @NavigantRSRCH, global installed power capacity for energy storage for the grid and ancillary services (ESGAS) is expected to grow from 1.1 GW in 2016 to 21.6 GW in 2025.
"The ESGAS market is being driven by increasing deployments of renewable energy, efforts to improve reliability, and the overall need to modernize the grid," says Alex Eller, research analyst with Navigant Research. "Asia Pacifics ESGAS market is expected to be both the largest and fastest growing over the coming decade, with annual deployments growing from 294.3 MW in 2016 to 9,355.6 MW in 2025."
While several key macro trends are helping to drive ESGAS markets, including rapidly falling ESS prices and the growing need for electrical infrastructure around the world, the most significant is the substantial growth in the amount of renewable energy being deployed globally. According to the report, as the percentage of variable generation increases, energy storage can help grid operators maintain system stability and ensure the efficient integration of these new, clean resources.
The report, Energy Storage for the Grid and Ancillary Services, explores the growing opportunities for ESSs to provide numerous services to the grid and how these markets will evolve in the coming decade. All major technologies for utility-scale energy storage, including advanced batteries and electromechanical systems, are covered in this report for the six top services that energy storage can provide. Global market forecasts for power capacity, energy capacity, and revenue, segmented by region, technology, and application, extend through 2025. The report also examines the key business models related to ESGAS, as well as the competitive landscape. An Executive Summary of the report is available for free download on the Navigant Research website.
About Navigant Research
Navigant Research, the dedicated research arm of Navigant, provides market research and benchmarking services for rapidly changing and often highly regulated industries. In the energy sector, Navigant Research focuses on in-depth analysis and reporting about global clean technology markets. The teams research methodology combines supply-side industry analysis, end-user primary research and demand assessment, and deep examination of technology trends to provide a comprehensive view of the Energy Technologies, Utility Transformations, Transportation Efficiencies, and Buildings Innovations sectors. Additional information about Navigant Research can be found at www.navigantresearch.com.
About Navigant
Navigant Consulting, Inc. is a specialized, global professional services firm that helps clients take control of their future. Navigants professionals apply deep industry knowledge, substantive technical expertise, and an enterprising approach to help clients build, manage and/or protect their business interests. With a focus on markets and clients facing transformational change and significant regulatory or legal pressures, the Firm primarily serves clients in the healthcare, energy and financial services industries. Across a range of advisory, consulting, outsourcing, and technology/analytics services, Navigants practitioners bring sharp insight that pinpoints opportunities and delivers powerful results. More information about Navigant can be found at navigant.com.
Featured Product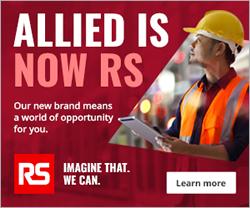 Moxa is a leader in edge connectivity, industrial computing, and network infrastructure solutions for enabling connectivity for the Industrial Internet of Things. With over 30 years of industry experience and 65 million devices connected worldwide, Moxa has a distribution and service network to serve customers in more than 80 countries. Now at Allied-find over 1,000 products from Ethernet switches, protocol converters, routers, and more. Allied Electronics & Automation, part of RS Group & Automation, part of RS Group is an authorized distributor of Moxa.