Home builders, property owners and contractors are all fired up about Sun Bandits new breed of utility-free, PV-powered solar water heating.
Home builders, property owners and contractors are all fired up about Sun Bandits new breed of utility-free, PV-powered solar water heating.

This month marks the one-year anniversary of a solar milestone: Sun Bandits earning the worlds first ICC-SRCC OG-100 solar thermal certification to include solar photovoltaics (PV) - a designation thats spawned an entirely new category of solar water heating and energy storage.
Enthusiasm for the inherent value proposition of this game-changing, PV-powered energy storage solution is marshaling the attention of home builders; property owners; solar, electrical and plumbing contractors; regulators; government agencies and sustainably-inclined consumers around the world.
The ICC-SRCC OG-100 certification not only recognizes the relevance of Sun Bandits technology in converting solar energy to thermal energy to heat water, its led to OG-300 and subsequent Energy Star certification that rewards partnering builders and solar industry professionals who incorporate Sun Bandit into their projects with deal-making incentives, LEED credits and marketing differentiators. ICC-SRCC (Solar Rating & Certification Corporation) is the only national certification program established solely for solar heating and cooling products.
"Its a paradigm shift in the way solar energy is captured, stored and used to heat water - with particularly appealing value adds for the homebuilding industry, solar professionals and consumers making solar hot water simple, practical and affordable for everyone," noted Next Generation Energy CEO David Kreutzman.
Sun Bandits turnkey, off-grid solutions empower home builders, contractors and businesses to reap the benefits of solar energy regardless of net metering or other government incentives and without utility approval. In an industry category plagued with problems, Sun Bandit provides an antidote to perennial industry challenges involving price, performance, permitting and inconsistently-issued net metering perks across the USA.
"This new, simplified solar water heating technology affords builders the opportunity to enhance their green inventory and attract sustainably inclined tenants, empowers consumers, non-profit and commercial interests to slash energy costs and live more sustainably and helps government cut costs while achieving important policy objectives in emissions reduction and sustainability," Kreutzman added.
Sun Bandit® might be new to the solar scene, but it comes with an impressive pedigree. Its parent company, renewable energy veteran Next Generation Energy (NGE), has been delivering innovative, quality solar energy solutions for 30 years. NGEs Sun Bandit is the manifestation of ongoing efforts to redefine solar water heating from ground zero to an eminently-marketable net zero. This trailblazing technology delivers the most innovative way to heat water since fire - and certainly the most sustainable.
Let us know when youre ready to realize the value proposition of this new breed of solar water heater by clicking here -- or calling 877-NGE-4SUN today!
Featured Product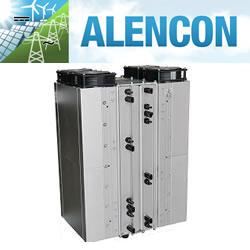 Alencon Systems is the premier manufacturer of high power, high voltage DC:DC optimizers for alternative energy applications including solar, battery energy storage, Microgrids, Fuel Cells and Electric Vehicle charging. Alencon's DC:DC converter offerings include the SPOT, BOSS and CUBE series DC:DC converters. The SPOT is a modular, uni-directional DC:DC solution ideal for solar applications. The BOSS is a modular, bi-directional unit for use with battery energy storage. The CUBE is a monolithic DC:DC converter which is available in both uni-directional and bi-directional modalities. Pictured above, is the Alencon SPOT.