POWER-GEN Europe and Renewable Energy World Europe has announced its industry-leading line-up of speakers, ahead of the conference in Milan, 21st-23rd June 2016.
Milan, Italy, 9th June 2016 - POWER-GEN Europe and Renewable Energy World Europe (PGE & REWE), the leading conference and exhibition for the international power and renewable industries, has announced an industry-leading line-up of speakers across two panel sessions. The annual conference and exhibition, which is the largest of its kind, is taking place in Milan, Italy, from 21st to 23rd June 2016.

The Joint Plenary Panel Discussion and Utility Leaders Roundtable will each feature a big panel of industry experts and decision-makers. The debates promise to be a highlight of this years conference.
The Plenary panel represents companies who are faced with both the challenge and opportunity of the energy transition in Europe. The participants will share their exclusive insights and strategies for successfully adapting to a changing energy sector, around the panel theme: 'Energy sector in transition: moving from survival to success. The panel boasts speakers from ANIE Federazione, Ansaldo Energia, Sorgenia SpA, GE, Siemens AG and MEDREG Association.
The Utility Leaders Roundtable includes six of Italys top decision-makers from a diverse cross-section of utilities and municipalities. The debate will cover policy and regulation changes, and how to effectively run Europes power system using clean, affordable and reliable energy. The experts will also look to the future and assess the role for traditional utilities, the prospects for new entrants and the trend towards consumer power and distributed generation. The session includes panellists from: A2A, Alpiq, Axpo Italia, Enel, ERG Renew, Genova Smart City and IREN.
The Plenary will take place on the first day of the show, Tuesday 21st June, from 10am in the Gold Plenary room. The roundtable, open to just conference delegates, will take place on Wednesday 22nd June from 2pm in the Brown 01 room.
To attend PGE & RWE and enjoy the debates live at the MiCo Milano, register here: www.powergeneurope.com/register.
Ends
Speaker information for press
Joint Plenary Panel Discussion speakers are:
• Claudio Andrea Gemme, Chairman, ANIE Federazione, Italy
• Gianfilippo Mancini, CEO, Sorgenia SpA, Italy
• Giuseppe Zampini, CEO, Ansaldo Energia, Italy
• Karim Amin, CEO of Global Sales - Power and Gas, Siemens AG, Germany
• Petrit Ahmeti, President of the Albanian Energy Regulator (ERE) & Vice President of MEDREG, Albania
• Paul McElhinney, President and CEO, Power Services, GE, USA. The theme of the session is 'Energy sector in transition: moving from survival to success.
• Moderated by Stephen Sackur, International Journalist and TV Presenter, BBC, UK
Utility Leaders Roundtable speakers are:
• Giuseppe Brancato, MD, Axpo Servizi Produzione Italia S.p.A. Italy
• Massimo Derchi, Managing Director, ERG Renew S.p.A., Italy
• Lorenzo Giussani, Head of Strategy and Innovation A2A, Italy
• Giuseppe Molina, Head of Thermal Generation, Enel, Italy
• Massimo Sabbioneda, Director of Marketing and Development, Alpiq InTec Italia S.p.A, Italy
• Enrico Pochettino, Head of Internationalisation and Innovation Department, IREN S.p.A., Italy
• Emanuele Piazza, Councillor, Economic Development, European Project Coordination, Italy
• Moderated by Stefano Besseghini, President and CEO, Ricerca sul Sistema Energetico - RSE SpA, Italy
About PennWell events
POWER-GEN Europe and Renewable Energy World Europe are owned and organised by PennWell Corporation. These events form part of a series staged annually in North America, South America, Europe, Asia, Africa and the Middle East, and provide exhibitors with an international 'one-stop-shop for penetrating markets and presenting their products and services to a global audience. For delegates and visitors, the events offer a dedicated forum tailored to their specific regional needs, putting them in touch with suppliers of solutions to their particular problems. The conferences address topical issues critical to the development of power generation in the host region.
About POWER-GEN Europe and Renewable Energy World Europe
In order to achieve the ambitious targets set at COP21, the power industry will require new approaches, new products and new skills.
The POWER-GEN Europe and Renewable Energy World Europe conference and exhibition will take place on 21st to 23rd June 2016 in Milan. The event remains the destination of choice for stakeholders to gain and exchange key insights and learning as all aspects of Europes energy transition come under the spotlight.
This years event has unprecedented support from associations, including Assoelettrica, Confindustria Lombardia, MEDREG, ANIE, RES4MED, AssoRinnovabili, FAST, ANIMP, Lombardy Energy Cleantech Cluster and RSE in its host country, Italy. And USDOC, VDMA, ASME, European Turbine Network and COGEN elsewhere.
In addition, utilities, equipment producers, service providers, city energy co-ordinators, consultancy firms, financiers, data handlers and grid operators will share their experiences and knowledge, and discuss the industrys current and future needs.
For more information and to register for the event please visit: www.powergeneurope.com or www.renewableenergyworld-europe.com
Media contact:
Katie Taylor
Tel: +44 (0) 20 7242 8867
Email: katie.taylor@aspectuspr.com
Web: www.aspectuspr.com
Featured Product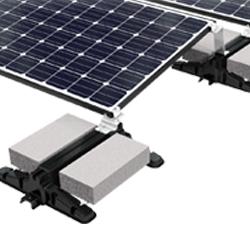 Preformed Line Products introduces the POWER MAX Ballasted Roof Mounting System. The POWER MAX solar mounting system is engineered to maximize energy output on commercial flat roofs. Developed with the professional installer in mind, this system offers adjustable inter-row spacing in the field of up to 11 inches. It features 50% fewer components and a simplified design resulting in faster assembly rates and labor savings on every project. Available in a flush mount, 5˚ or 10˚ tilt or higher density dual tilt design, the POWER MAX base arrives stacked on pallets providing easier transport to the roof. Engineered as a fully ballasted, non-penetrating system, it accepts standard concrete blocks and is qualified by wind tunnel testing.