Solar Accounted for 64% of New Electric Generating Capacity in the U.S. in Q1 2016
BOSTON, MASS. and WASHINGTON, D.C. - In the first quarter of 2016, 1,665 megawatts (MW) of solar PV were installed in the United States with the solar industry adding more new capacity during this period than coal, natural gas and nuclear combined. According to GTM Research and the Solar Energy Industries Associations (SEIA) U.S. Solar Market Insight, Q2 2016, the 1,665 MW accounted for 64 percent of all new electric generating capacity brought on-line in the first quarter of the year.

This growth builds off the momentum of a record 2015, in which solar exceeded natural gas capacity additions on an annual basis for the first time ever. The report also says that this year the solar industry will install an unprecedented 14.5 gigawatts (GW) of capacity, a 94 percent jump over the 7.5 GW in capacity installed in 2015. This growth cements solar energys role as a mainstay in Americas portfolio of electricity sources.
Source: GTM Research / SEIA U.S. Solar Market Insight, Q2 2016
The first quarter of 2016 marks the 10th consecutive quarter in which more than a GW of PV was installed in the United States, and the 12th consecutive quarter in which 500 MW or more of utility-scale PV was installed.
In turn, there are now more than a million operating solar PV installations across the country, representing 27.5 cumulative GW of operating capacity.
"While it took us 40 years to hit 1 million U.S. solar installations, were expected to hit 2 million within the next two years," said Tom Kimbis, SEIAs interim president. "The solar industry is growing at warp speed, driven by the fact that solar is one of the lowest cost options for electricity and its being embraced by people who both care about the environment and want access to affordable and reliable electricity."
Utility PV is expected to drive the majority of demand, accounting for nearly three-fourths of new capacity. More than 10 GWdc of utility PV is slated to come on-line this year. At least another 4.5 GWdc of utility PV installations are expected to be nearly or fully finished with construction in Q4 2016 and official commercial operation expected in 2017.
The non-residential solar market experienced some much needed consistency this past quarter. The report notes that for the first time ever, the non-residential market experienced back-to-back quarters with installations of 300 MW or more.
"Over the past six months, the non-residential PV segment has shown glimpses of a market that can grow across a more diverse set of project development opportunities," said Cory Honeyman, GTM Researchs associate director of U.S. Solar. "While a number of policy- and customer-driven bottlenecks continue to challenge the market, a handful of state policies established over the past half year should unlock new customer-sited and offsite development, with Fortune 500 corporate customers playing a key role in supporting the markets rebound."
Despite some net metering reform hurdles, the residential market segment continued its track record of quarterly growth, although at a much slower clip due to a typical seasonal dip during the late winter months. While California remained relatively flat, other markets picked up the slack. GTM Research points to New York and Maryland which both experienced quarterly residential growth rates of 25 percent.
Source: GTM Research / SEIA U.S. Solar Market Insight, Q2 2016
With the recent extension of the federal Investment Tax Credit, a number of large-scale projects have breathing room to spill over into 2017. That spillover effect, plus a growing number of geographies where distributed and utility PV are attractive with an ITC extension, position U.S. solar to remain a double-digit GW annual market through the end of this decade.
For more information, visit http://www.seia.org/research-resources/us-solar-market-insight
###
About U.S. Solar Market Insight:
The U.S. Solar Market Insight report is the most detailed and timely research available on the continuing growth and opportunity in the U.S. The report includes deep analysis of solar markets, technologies and pricing, identifying the key metrics that will help solar decisionmakers navigate the market's current and forecasted trajectory. For more information, visit www.seia.org/smi
About SEIA®:
Celebrating its 42nd anniversary in 2016, the Solar Energy Industries Association® is the national trade association of the U.S. solar energy industry. Through advocacy and education, SEIA® is building a strong solar industry to power America. As the voice of the industry, SEIA works with its 1,000 member companies to champion the use of clean, affordable solar in America by expanding markets, removing market barriers, strengthening the industry and educating the public on the benefits of solar energy. Visit SEIA online at www.seia.org.
About GTM Research:
GTM Research, a division of Greentech Media, provides critical and timely market analysis in the form of research reports, data services, advisory services and strategic consulting. GTM Research's analysis also underpins Greentech Media's webinars and live events. Our coverage spans the green energy industry including solar power, grid modernization, energy storage, energy efficiency and wind power sectors.
Featured Product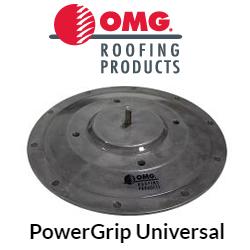 Eliminate Solar Rack Ballast and Reduce Rooftop Material Handling. PowerGrip™ Universal (PGU) is a commercial roof mount system designed to secure solar racks and other equipment to any type of commercial roofing system. PGU provides a secure connection directly to the roof deck or structural members and is designed to reduce or eliminate ballast in solar racking systems, so there's less weight on the roof and less material handling. Made of heavy-duty cast aluminum, PGU units include a base ring which is secured through the roofing cover and into the structural roof deck, and a waterproof top plate.