500+ wind turbines operating; 10 million+ run hours
BARRE, Vt., June 9, 2016 /PRNewswire/ -- Northern Power Systems Corp. (TSX: NPS), a next generation renewable energy technology company, today announced that well over 500 of its flagship distributed generation wind platforms are now operating in locations worldwide, under a variety of weather and siting conditions, reaching 10.6 million run hours. Northern delivers first in class reliability combined with high performance energy production, with its fleet of warranted turbines and those covered by its unique 10 year performance guarantee program performing at greater than 98% availability.

The NPS 100 wind turbine platform is a state-of-the-art product in its third generation of technology evolution, optimized for high efficiency, reliability and reduced lifetime cost of energy. Installations now span the globe, covering North America (including the Caribbean islands, Hawaii and Alaska), Europe and Asia.
"No other wind turbine of this category can claim such performance, reliability and bankability," stated Reinout Oussoren, VP of Global Sales for Northern Power Systems. "This milestone launches Northern Power into a unique position to offer the only technically advanced permanent magnet direct drive platform having such a depth of installations and run hours for commercial and industrial applications, as well as wind gardens and community wind projects. It provides end users, financial investors and project developers confidence in the reliability of Northern Power's wind turbine."
At 100 kilowatts of rated power, with a 21- or 24-meter rotor, the NPS 100 offers best-in-class annual energy production, safety and reliability for farms, businesses, schools and hospitals. Its new 24-meter rotor features state-of-the-art hub and blade technology with superior aerodynamics providing a larger swept area. This increases the annual energy production (AEP) of the NPS 100-24 up to 15% over the previous model. Further improvements include an enhanced electrical layout and more efficient generator cooling. Originally developed with NASA and designed for remote and isolated sites, the NPS 100 has an innovative gearless direct drive and permanent magnet generator. The NPS 100 wind turbine is optimized for low wind speed performance, making power at wind speeds as low as 3 meters per second (6 mph), providing clear economic benefits in a wide variety of wind regimes, ranging from semi-urban to remote off-grid or microgrid locations.
Northern Power is now offering a fully financed product for the North American market that allows customers to install a wind turbine on a lease-to-own program with up to 100% of the total installed cost being financed, making a winning proposition for both the end user and this renewable energy technology.
About Northern Power Systems
Northern Power Systems designs, manufactures, and sells wind turbines and power technology products, and provides engineering development services and technology licenses for energy applications, into the global marketplace from its US headquarters and European offices.
Northern Power Systems has almost 40 years' experience in technologies and products generating renewable energy.
Northern Power Systems currently manufactures the NPS™ 60 and NPS™ 100 turbines. With over 10.6 million run time hours across its global fleet, Northern Power wind turbines provide customers with clean, cost effective, reliable renewable energy.
Patented next generation permanent magnet direct drive (PMDD) technology uses fewer moving parts, delivers higher energy capture, and provides increased reliability due to reduced maintenance and downtime.
Northern Power Systems' FlexPhase™ power converter platform uses patented converter architecture and advanced controls technology for advanced grid support and generation applications.
Northern Power Systems offers comprehensive in‐house development services, including systems level engineering, advanced drivetrains, power electronics, PM machine design, and remote monitoring systems to the energy industry.
Some of the world's largest manufacturers license the company's next generation technology and IP for their utility and distributed wind products and markets.
To learn more about Northern Power Systems, please visit www.northernpower.com.
Featured Product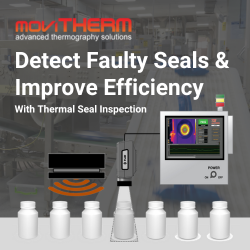 MoviTHERM's Thermal Seal Inspection (TSI) solution provides precise and reliable detection of defects in a variety of packaging types, including pouches, bags, blister packs, bottle caps, and more. By detecting defects in your packages, the TSI solution helps increase efficiency in your production line and ensures top-quality packaging is delivered to your customers every time. With state-of-the-art technology and an experienced team, MoviTHERM is dedicated to delivering accurate inspection solutions and peace of mind to its clients. Contact MoviTHERM today to learn more about their thermal seal inspection solution.