Top international journalist to share global energy perspectives at largest power generation event of its kind in Europe
POWER-GEN Europe and Renewable Energy World Europe, the leading conference and exhibition for the international power and renewable industries is taking place at the MiCo Milano Congressi, Milan, Italy, from 21st to 23rd June 2016.

In 2015, the event attracted almost 10,000 attendees, including 1,000 delegates and 400 exhibitors representing more than 100 countries. This year's edition promises to build on that success.
Robert Guest, The Economist's Foreign Editor, has recently been confirmed as a keynote speaker. The highly anticipated keynotes will be a highlight of this year's show. Mr Guest joins Enrico Viale, Head of Global Generation, Enel Group. The keynotes will focus on the theme of this year's show: 'Delivering an Integrated Energy Future'.
Conference highlights include the Plenary Panel Discussion and Utility Leaders Roundtable. These sessions provide a platform for handpicked decision makers to discuss, debate and provide exclusive expert industry insights.
In addition, the Presentation Theatre in the exhibition hall has a free-to-attend line-up of sessions. This includes a presentation on energy innovation, including speakers from budding companies and industry start-ups. It also features the CIMAC Circle presentation, providing practical perspectives on reciprocating engines, featuring ABB Turbo Systems, Enel, Wärtsilä Nederland, GE and Stadtwerke München.
Other sessions include those hosted by MedReg, the Italian Association of Electrotechnical and Electronics Industries (ANIE) and the European Commission.
Nigel Blackaby, Conference Director at PennWell, says: "The line-up has a real focus on key issues facing an industry in transition. Support from Italian industry experts has been outstanding, holding the promise of lively debate, exciting discussion and expert insights."
POWER-GEN Europe and Renewable Energy World Europe is taking place next week in Milan. To attend and be a part of the event, register here.
- ENDS -
About PennWell events
POWER-GEN Europe and Renewable Energy World Europe are owned and organised by PennWell Corporation. These events form part of a series staged annually in North America, South America, Europe, Asia, Africa and the Middle East, and provide exhibitors with an international 'one-stop-shop' for penetrating markets and presenting their products and services to a global audience. For delegates and visitors, the events offer a dedicated forum tailored to their specific regional needs, putting them in touch with suppliers of solutions to their particular problems. The conferences address topical issues critical to the development of power generation in the host region.
About POWER-GEN Europe and Renewable Energy World Europe
In order to achieve the ambitious targets set at COP21, the power industry will require new approaches, new products and new skills.
The POWER-GEN Europe and Renewable Energy World Europe conference and exhibition will take place on 21st to 23rd June 2016 in Milan. The event remains the destination of choice for stakeholders to gain and exchange key insights and learning as all aspects of Europe's energy transition come under the spotlight.
This year's event has unprecedented support from associations, including Assoelettrica, Confindustria Lombardia, MedReg, ANIE, RES4MED, assoRinnovabili, FAST, ANIMP, Lombardy Energy Cleantech Cluster and RSE in its host country, Italy. And USDOC, VDMA, ASME, European Turbine Network and COGEN elsewhere.
In addition, utilities, equipment producers, service providers, city energy co-ordinators, consultancy firms, financiers, data handlers and grid operators will share their experiences and knowledge, and discuss the industry's current and future needs.
For more information and to register for the event please visit: www.powergeneurope.com or www.renewableenergyworld-europe.com
Media contact:
Rosie Williams
Tel: +44 (0) 20 7092 8127
Email: rosie.williams@aspectuspr.com
Web: www.aspectuspr.com
Featured Product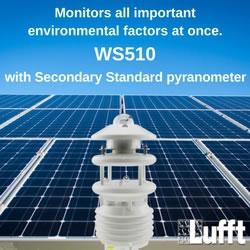 Professional weather sensors form the heart of large solar plants supporting their operation and performance. Lufft was the first manufacturer to combine several sensors in one housing, bringing the largest multiparameter weather sensor family with 19 members into being. Many of them are well-suited for solar site assessment and continuous monitoring. The most commonly used one is the WS600 delivering data on temperature, air pressure, wind, relative humidity and precipitation. Through its open protocol, it can easily be attached to radiation sensors e.g. from Kipp&Zonen. Other models have an integrated Silicon, Second Class or Secondary Standard radiation sensor.