SolarEdges HD-Wave Inverter Technology is an Intersolar Award Finalist
Munich, Germany — June 20, 2016— SolarEdge Technologies, Inc. ("SolarEdge") (NASDAQ: SEDG), a global leader in PV inverters, power optimizers, and module-level monitoring services, is presenting its commercial PV solution and expanded smart energy management portfolio at Intersolar. The expanded smart energy management portfolio includes a new product suite of load switching devices and immersion heater controls designed to direct excess PV energy to appliances during the day in order to shift energy consumption to match PV generation. Also as part of the smart energy management portfolio expansion, is the addition of LG Chems RESU10H battery and RESU7H batteries to StorEdge™ solution compatibility.

"Dedicated to offering innovative and cost-effective energy solutions, SolarEdge is happy to be leading the integration of PV generation with energy automation," stated Lior Handelsman, SolarEdges VP of Marketing and Product Strategy. "With inverters taking an extended role in energy management, this is a natural progression for SolarEdge."
SolarEdge is also presenting its commercial offering and HD-Wave technology inverter at Intersolar. Its commercial offering features a new extended service suite that supports PV business throughout the life cycle of commercial PV systems. With its HD-Wave technology inverter being ≤6kW, ≤9.5kg, having 99% efficiency and excellent reliability, the technology makes a leap for inverters. SolarEdges HD-Wave inverter technology is listed as a finalist for the Intersolar Awards in the photovoltaics category.
Intersolar Europe attendees are invited to visit the SolarEdge booth, located at Hall B3, booth 110, to meet its local and global management teams, learn more about its new product offerings, participate in daily trainings, and provide feedback.
About SolarEdge Technologies
SolarEdge provides an intelligent inverter solution that has changed the way power is harvested and managed in solar photovoltaic systems. The SolarEdge DC optimized inverter system maximizes power generation at the individual PV module-level while lowering the cost of energy produced by the solar PV system. The SolarEdge system consists of power optimizers, inverters, storage solutions, and a cloud-based monitoring platform and addresses a broad range of solar market segments, from residential solar installations to commercial and small utility-scale solar installations. SolarEdge is online at http://www.solaredge.com
Featured Product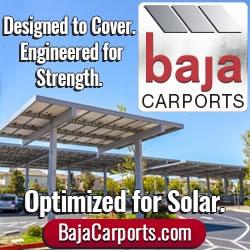 Baja Carports offers an extensive solar support system product line customized to customers' site specifications by in-house engineers, meeting their parking lot coverage, plus optimal PV production needs. Baja's Full Cantilever Tee is often paired with its Semi and Full Cantilever carports to meet live/loads up to 60psf and wind speeds to 160mph. All Baja products are pre-fabricated, bolted connections, pre-galvanized structural steel for fast on-site installation and project aesthetic requirements."