The growth of variable generation causes significant shifts in the global electric power industry, report finds
BOULDER, Colo.--(BUSINESS WIRE)--A recent report from Navigant Research examines the market for energy storage systems for renewable energy integration (ESRI), including global market forecasts for capacity and revenue, broken out by application, technology, and region, through 2025.

The fastest-growing renewable energy markets continue to be solar PV and wind, variable forms of generation that present challenges to an electrical grid that was designed using a centralized model with predictable power flows. However, the growth of variable generation and the decreasing cost of advanced batteries present opportunities for energy storage systems (ESSs) situated either at the distribution grid or behind the meter. Click to tweet: According to a recent report from @NavigantRSRCH, global new installed ESRI power capacity is expected to total 45.1 GW from 2015 to 2025.
"The business cases for ESRI will vary significantly depending on the geographic location, market structure, target customers, and type of renewable energy being integrated," says Anissa Dehamna, principal research analyst with Navigant Research. "While this diversity presents challenges in the short term, there is enormous potential for companies able to make sense of this complexity and offer solutions that the market demands."
The growing amount of variable energy generation being added to power grids worldwide is causing significant shifts in the global electric power industry, according to the report. Regions such as North America, Europe, and Asia Pacific are experiencing different levels of growth in variable generation, and the impact this new generation has on the grid also differs regionally.
The report, Energy Storage for Renewables Integration, analyzes the global ESRI market, focusing on four primary applications: commercial ESRI, residential ESRI, utility-scale solar integration, and utility-scale wind integration. These four applications include a variety of different functions for an ESS to perform that can facilitate a seamless integration of variable renewable energy generation. The study provides an analysis of the market issues, including business cases, opportunities, and challenges, associated with ESRI. Global market forecasts for capacity and revenue, broken out by application, technology, and region, extend through 2025. The report also examines the key technologies related to ESRI, as well as the competitive landscape. An Executive Summary of the report is available for free download on the Navigant Research website.
About Navigant Research
Navigant Research, the dedicated research arm of Navigant, provides market research and benchmarking services for rapidly changing and often highly regulated industries. In the energy sector, Navigant Research focuses on in-depth analysis and reporting about global clean technology markets. The teams research methodology combines supply-side industry analysis, end-user primary research and demand assessment, and deep examination of technology trends to provide a comprehensive view of the Energy Technologies, Utility Transformations, Transportation Efficiencies, and Buildings Innovations sectors. Additional information about Navigant Research can be found at www.navigantresearch.com.
About Navigant
Navigant Consulting, Inc. is a specialized, global professional services firm that helps clients take control of their future. Navigants professionals apply deep industry knowledge, substantive technical expertise, and an enterprising approach to help clients build, manage and/or protect their business interests. With a focus on markets and clients facing transformational change and significant regulatory or legal pressures, the Firm primarily serves clients in the healthcare, energy and financial services industries. Across a range of advisory, consulting, outsourcing, and technology/analytics services, Navigants practitioners bring sharp insight that pinpoints opportunities and delivers powerful results. More information about Navigant can be found at navigant.com.
Featured Product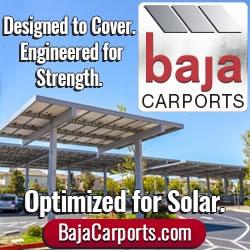 Baja Carports offers an extensive solar support system product line customized to customers' site specifications by in-house engineers, meeting their parking lot coverage, plus optimal PV production needs. Baja's Full Cantilever Tee is often paired with its Semi and Full Cantilever carports to meet live/loads up to 60psf and wind speeds to 160mph. All Baja products are pre-fabricated, bolted connections, pre-galvanized structural steel for fast on-site installation and project aesthetic requirements."