In Addition to Serving Local Needs, the Company is Contributing to the Growth of the Renewable Energy Market in Brazil
SÃO PAULO—June 21, 2016—The renewable energy sector in Brazil has high expectations for growth in the coming years. By 2024, solar power will account for 4 percent of Brazil's energy matrix, and wind power will be the second-largest energy source by 2020, accounting for 12 percent of production[1]. Following this trend, GEs Power Conversion business (NYSE: GE) has just completed domestic content compliance for its solar and wind inverters—the LV5 and DTA CFI lines, respectively—following the rules set out by Brazil's state-owned development bank, BNDES, regarding how much of the equipment is manufactured in Brazil. This means Brazilian clients can get BNDES credit at more attractive interest rates.

"We're very proud to announce that two new GE technologies in renewable energy comply with domestic manufacturing requirements. This shows the company's commitment to providing high-tech solutions with excellent finance conditions for Brazilian clients," says Sérgio Zuquim, commercial director of GEs Power Conversion business for Latin America.
Following the GE Store concept—offering a complete solution for clients through different businesses owned by the company—compliance with BNDES requirements by wind frequency inverters, which are installed inside wind turbines, met a specific demand from GE's wind division, which took an active part in the entire process.
"Based on compliance for domestically produced content for this specific technology for GE Wind, we will be able to do the same for other equipment, according to market demand, as we are contributing to the consolidation of an emerging supply chain," explains Zuquim.
Solar frequency inverters are universal devices that can be sold to any clients who are building or planning to build solar plants, not only in Brazil but also in other parts of the world, serving the market's needs for at least 10 years.
"GE has been pioneering 1,500-volt LV5 solar inverters that bring high cost-effectiveness to utility solar farms. Since the launch of its 1,500-volt inverters in 2014, GE has delivered more than 1 gigaweatt and accumulated a further 4 gigawatts in backlog globally. Now that the inverters have obtained BNDES accreditation, it opens the avenue for us to continue to deliver value also to Brazilian customers and local solar farms," adds Zuquim.
GE has already complied similarly in its various divisions, such as Aviation, Transportation, Healthcare and Wind.
"The whole process was conducted using GE's expertise in the area. In addition to meeting clients' needs, we are contributing to the growth of the energy sector as a whole, as we are developing the local supply chain," concludes Zuquim.
About GE
GE (NYSE: GE) is the worlds Digital Industrial Company, transforming industry with software-defined machines and solutions that are connected, responsive and predictive. GE is organized around a global exchange of knowledge, the "GE Store," through which each business shares and accesses the same technology, markets, structure and intellect. Each invention further fuels innovation and application across our industrial sectors. With people, services, technology and scale, GE delivers better outcomes for customers by speaking the language of industry. For more information, visit the company's website at www.ge.com.
About GE Energy Connections
GE Energy Connections designs and deploys industry-leading technologies that turn the world on. We transport, convert, automate and optimize energy to ensure we provide safe, efficient and reliable electrical power. Uniting all the resources and scale of the worlds first digital industrial company, we connect brilliant machines, grids, and systems to power utility, oil & gas, marine, mining and renewables customers, that keep our world running. www.GEEnergyConnections.com
About GEs Power Conversion Business
GE Energy Connections provides customers with electrical solutions that enable local utilities and energy-intensive industries to more efficiently manage electricity from the point of generation to consumption. GEs Power Conversion business, a business unit of GE Energy Connections, applies the science and systems of power conversion to help drive the electrification of the worlds energy infrastructure by designing and delivering advanced motor, drive and control technologies that evolve todays industrial processes for a cleaner, more productive future. Serving specialized sectors such as energy, marine, oil and gas, renewables and industry, through customized solutions and advanced technologies, GE Power Conversion partners with customers to maximize efficiency. To learn more, please visit: www.gepowerconversion.com.
Featured Product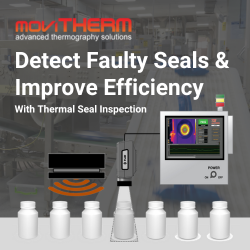 MoviTHERM's Thermal Seal Inspection (TSI) solution provides precise and reliable detection of defects in a variety of packaging types, including pouches, bags, blister packs, bottle caps, and more. By detecting defects in your packages, the TSI solution helps increase efficiency in your production line and ensures top-quality packaging is delivered to your customers every time. With state-of-the-art technology and an experienced team, MoviTHERM is dedicated to delivering accurate inspection solutions and peace of mind to its clients. Contact MoviTHERM today to learn more about their thermal seal inspection solution.