PetroWind Energy Inc. (PWEI) has appointed Modern Energy Management (MEM) to provide operations and asset management support services to its 36MW Nabas wind farm in Aklan, Philippines.
PetroWind Energy Inc. (PWEI), a renewable energy company in the Philippines has appointed Singapore-based Modern Energy Management to provide operations and asset management support services to its 36MW Nabas wind farm in Aklan province. The project consists of 18 Gamesa G90 - 2.0MW wind turbines.

The Nabas wind farm, which achieved commercial operations in 2015, is the first renewable energy plant in Aklan province. "The Nabas wind farm is the single biggest investment in Aklan province to date" reported Mr. Francisco Delfin Jr, Executive Vice President for Operations of PWEI. "To support our commitment to clean energy, Modern Energy Management was a clear choice. Their experience and expertise in wind farm operations is unparalleled. But what set them apart was their willingness to partner with our team in delivery of their services."
Lars Lund, Director of Modern Energy Management stated, "we are very proud to participate in the continuing success of PWEIs Nabas wind project. Partnering with PWEI is a good fit for us. We have a strong track record of delivering positive results to investors of renewable energy projects, particularly in emerging markets."
Modern Energy Managements scope of work will consist of wind farm (wind turbine and balance of plant) inspections, training of the PWEI operations and asset management team, and energy yield optimization services.
PWEI is owned by publicly listed PetroEnergy Resources Corp., through its subsidiary, PetroGreen Energy Corp. (40 percent), CapAsia ASEAN Wind Holdings Cooperatief U.A. (40 percent), a company organized in the Netherlands, and EEI Power Corp. (20 percent), a wholly-owned subsidiary of publicly listed EEI Corp.
Featured Product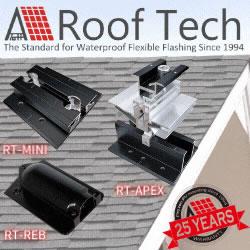 Now Roof Tech brings you the most innovative, watertight mounting systems ever developed for solar photovoltaic systems. Designed and manufactured exclusively for us by Japan's longtime leader in roofing technologies, Roof Tech products are 100% code-compliant and offer fast, simple installation and huge savings on shipping costs due to their compact, rail-less design. Learn more about our full line of versatile PV mounting solutions now available for residential installations. The next generation in rooftop solar mounting solutions."