Opening Ceremony and Conference Sessions Will Feature Commentary from Sunrun CEO Lynn Jurich and Other National Solar Leaders
SAN FRANCISCO, July 8, 2016 /PRNewswire/ -- Kevin de León, president pro tempore of the California Senate and winner of the 2016 Intersolar Champion of Change AWARD, will deliver a keynote address at the Opening Ceremony for Intersolar and ees North America, the most-attended solar plus storage industry exhibition and conference in North America. The Opening Ceremony will be held on Monday, July 11 at 5:30 P.M. in the Grand Ballroom at the InterContinental Hotel. The official opening ceremony will kick off Intersolar's ninth annual trade show in San Francisco and also celebrate Intersolar's 25th Anniversary as the global leader in solar events worldwide.

de León has advocated to increase access to community solar and to make alternative energies mainstream in California. He was awarded the Champion of Change AWARD for 2016 for his efforts in promoting renewable energy and energy efficiency across California. Throughout his career, de León has shown a commitment to driving impactful legislation, from passing the nation's largest incentive for electric cars to authoring SB 350, which set California's 50-percent Renewable Portfolio Standard.
de León will deliver his remarks alongside key solar policymakers and advocates, including Lynn Jurich, CEO of Sunrun, the largest dedicated residential solar company in the United States. Additional speakers include Joshua Arce, founder of the Brightline Defense Project, a policy advocacy non-profit which works to help low-income neighborhoods polluted by power plants to create sustainable and healthy living conditions, as well as Prof. Dr. Eicke R. Weber, director of the Fraunhofer Institute for Solar Energy Systems (ISE) of Germany. The Opening Ceremony is free to all pre-registered attendees and exhibitors.
Future of PV Panel Predicts What's Next for U.S. Market
The U.S. solar market is expected to add 14.5 GW of photovoltaic solar installations in 2016, according to GTM Research, continuing to demonstrate the strength of the market. Its continued growth, as well as the implications of the investment tax credit (ITC)'s extension and what's next for the industry, will be part of the discussion during the "Future of PV: Executive Panel" on Wednesday, July 13. Moderated by Dr. Weber, the high-profile conference session will feature insights from distinguished speakers representing companies and organizations across the solar supply chain, including representatives from the Federal Environment Agency (UBA) in Germany; the U.S. Department of Energy; The Solar Foundation; ABB, Inc.; and SolarWorld Americas Inc.
Financing is a key component of market growth. Nine conference sessions throughout the week will discuss the financial models supporting the residential, commercial and utility market segments, as well as how to minimize risk when bringing projects online, and what innovations are needed to expand the customer base for solar. The closing panel on Monday, July 11, "Financing the Future of Solar Energy, from Dumb Solar to Energy Trader?" will feature remarks on how best to navigate the market policy signals when developing solar financing models, and what financing strategies will ensure future market expansion.
While the U.S. leads the North American solar market, new solar hotspots are also developing. In "Financing from the Customer Perspective," held on Wednesday, July 13, attendees will learn about the roadblocks that can prevent customers from securing financing and how the industry can work to help overcome these challenges.
ees North America Conference Makes Its Debut
As solar energy increases its share of the global power supply, industry attention has turned to the growing role of energy storage—a market that is expected to be worth $2.5 billion by 2020 in the U.S. alone, according to GTM Research. At the ees North America conference, co-located with Intersolar North America, a series of panel discussions will cover the key topics related to this growing market. On Monday, July 11, "Hot Spots of the U.S. Storage Market" will focus on the essential questions behind the industry: where is the market potential greatest in the U.S., what are its revenue projections; what financial support schemes are in place; and what technologies are best suited for it. The panel features commentary from sonnen, Inc., Sharp Electronics, Sandia National Laboratories, the California Energy Storage Alliance (CESA), and Tabuchi America.
Other conference sessions offered at ees North America will tackle the technology development of energy storage technologies, such as "Next Generation of Cells Achieving Cost Targets and Safety Requirements" on Monday, July 11. Additionally, the variety of energy storage applications—from residential and commercial storage systems to utility-scale power plants—will be covered. "Storage Systems for Renewable Power Plants" on Tuesday, July 12, will discuss the various approaches used by utilities to integrate storage solutions into large-scale renewable energy installations, and the hurdles large-scale power plant storage applications face. Also on Tuesday, July 12, "Financing Storage Projects" will discuss issue of financing—how to earn financial backing for storage projects and how to mitigate risk.
Throughout the course of the three-day Intersolar and ees North America conference programs, more than 220 speakers will offer their insights into the trends shaping the market in 39 sessions. A full schedule of events, workshops and panels at Intersolar and ees North America can be found here.
About Intersolar North America
With events spanning four continents, Intersolar is the world's leading exhibition series for the solar industry and its partners. It unites people and companies from around the world with the aim of increasing the share of solar power in our energy supply.
Since its establishment in 2008, Intersolar North America has become the most attended solar event and the premier networking platform for the North American solar industry. Co-located with SEMICON West, Intersolar North America takes place annually at the Moscone Center in San Francisco, in the heart of the United States' pioneering solar market. The event will expand to host a co-located energy storage-focused exhibition, ees North America. ees grew out of Intersolar North America's popular energy storage exhibition segment.
A total of 521 exhibitors and around 17,835 visitors participated in Intersolar North America in 2015. The conference and exhibition program featured 47 sessions with more than 200 speakers and 25 workshops.
Intersolar North America's exhibition and conference focus on photovoltaics, energy storage systems, smart renewable energy and solar heating & cooling technologies. Since being founded, Intersolar has become the most important industry platform to connect manufacturers, suppliers, distributors, service providers, policy makers, start-up founders, financiers, installers and partners in the global solar industry.
With 25 years of experience, Intersolar has the unique ability to bring together members of the solar industry from across the world's most influential markets and solar supply chain. Intersolar exhibitions and conferences are held in Munich, San Francisco, Mumbai, and São Paulo, and, starting in 2016, in Dubai. These global events are complemented by the Intersolar Summits, which take place in emerging and growing markets worldwide.
For more information on Intersolar North America, please visit: http://www.intersolar.us
About ees North America
The ees global exhibition series is the electrical energy storage industry's hotspot for manufacturers, distributors, users and suppliers of stationary and mobile storage solutions. ees exhibitions are organized in cooperation with Intersolar, the world's leading exhibition series for the solar industry.
The ees exhibitions and accompanying conferences are focused on storage solutions for renewable energy, from residential and commercial applications to large-scale storage systems for stabilizing the grids. ees also features energy management, electric transportation and uninterruptible power supply (UPS).
There are three ees events around the world—ees North America in San Francisco, ees Europe in Munich, and ees India in Mumbai. The ees North America debuted in 2015 as a special exhibition in San Francisco. In 2016, ees North America becomes a stand-alone exhibition co-located with Intersolar North America.
With 100 expected exhibitors and 18,000 visitors at the co-located events, it will be the most-attended solar-plus-storage event in the U.S.
For more information on ees North America please visit www.ees-northamerica.com
Organizers: Intersolar North America is organized by Solar Promotion International GmbH, Pforzheim and Freiburg Management and Marketing International GmbH (FMMI).
Featured Product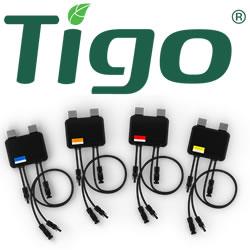 Tigo will announce the new product launch of the patented UHD-Core TS4-A (Advanced Retrofit/Add-on) Platform at SPI 2019. The new TS4-A-M (Monitoring) & TS4-A-S (Safety) units have improved lightweight hardware and lower labor costs to address a range of functions and budgets. The TS4-A-M allows module-level monitoring via Tigo's SMART Website & App. The TS4-A-S is UL-certified as a rapid shutdown solution for residential and C&I PV system. Both units join the Tigo's multivendor solution that works with almost any inverter and smart module in the global PV market. Contact sales@tigoenergy.com for pricing, shipping, and availability in Q4'19.