PV Racking Is Saving Solar Installers Time and Money
SAN FRANCISCO, July 8, 2016 /PRNewswire/ -- PV Racking offers a completely clamp-free racking line for pitched roof, and ground mounted solar systems. These solar rails incorporate a guided channel which allows solar modules to slide into, as opposed to individually fastening modules with clamps. In turn, installation times are drastically reduced, and hidden soft costs on labor are eliminated.

PV Racking, founded and operated by certified solar installers, innovated a unique gravity held, slide-in-place solar mounting system that eliminates the need for clumsy clamps. This innovation has several key advantages over any clamp-held system; By sliding the panels into place, the installation time has been significantly reduced. The system also allows for a more stable and secure solar array than traditional clamp systems. Additionally, on a finished PV Racking system there are no gaps between modules, creating a clean and seamless array. To learn more about this innovative design visit www.pvracking.com or call (855)PV RACKS / (855)787-2257.
Installing solar on pitched roofs is no easy task and has proven to be increasingly dangerous for installers. With PV Racking, our guided channels reduce the amount of effort it takes to fasten a module to the roof surface, making the installation safer, faster, and easier.
Traditional ground mounted solar racking systems require an installer to stand on a ladder while fastening solar modules with difficult clamps. With PV Racking, an installer can stand on the ground and slide the modules through our guided channels, vertically. This methodology is not only much safer, but greatly reduces the amount of time it takes to install the modules.
PV Racking was developed by innovative solar installers who were confident they could transform traditional labor-intensive clamped racking systems into sleeker, more effective clamp-less designs. The functionality of PV Racking is to both lessen the labor efforts of installers, and also provide a seamless structure that is aesthetically pleasing for a consumer's property.
For further information visit www.pvracking.com or call (855)PV RACKS / (855)787-2257.
Featured Product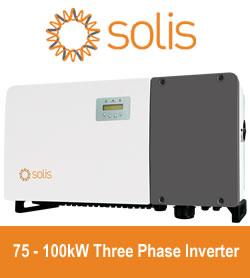 Solis75kW - 100kW series high-power string inverters are widely used in industrial and commercial rooftops. Solis's new three-phase string inverter is the first choice for industrial and commercial photovoltaics. 75-100kW three phase series string inverter have Maximum 28 strings input, support "Y" type connection in DC side. Maximum string input current 13A, support bifacial modules access.Supports anti-PID function to improve system efficiency.