With a compelling pipeline of market opportunities presently existing in the United States, the Company is focused on three business channels; Tire Pyrolysis conversion, PGM smelting and TEAC (digital ecology applications).
In the U.S., the field of waste management has become resource management as the way waste is viewed has dramatically shifted. New conversion and recovery technologies allow more materials to be recovered and new value created from those materials.

Waste streams are now considered valuable scrap and new technologies allow industry to tap into these resources and create value out of what was before considered non-valuable material. Conversion technologies, specifically those designed for plastics and tires, offer the same potential to create value for landfills. Tires to Fuel (TtF) technologies offer the potential to manage landfill-bound tires as a resource to create a valuable alternative fuel and byproducts.
Outside of North America, three key drivers have supported commercialization of TtF technology: rapidly diminishing landfill capacity, a strong push to increase diversion and materials recovery, and the drive to find value in non-recycled materials. These fundamentals are quickly taking root in North American markets.
These factors have led to investment in commercialization of pyrolytic technology abroad and are shaping the waste management landscape.
Key factors also include an ample supply of non-recycled scrap tires and plastics, economics of avoided landfill tipping fees, and the growing demand for alternative fuel products.
GCE Business (below)
GCE collaborates with Fortune 500 companies as capital partners, project development partners and EPCs providing performance guarantees to our renewable energy projects. Projects include the design and build of process skids, automation architecture, software, power control and engineering and start-up services. GCEI has the ability to deliver scalable, complex solutions.
GCE Tire TtF Facility, Illinois.
The company has dedicated significant time and resources identifying and securing top tire feedstock sources and acquiring the rights to install and operate pyrolysis systems. These facilities produce alternative, low emission fuels such as diesel, syngas, carbon and steel recovery.
Tires landfills continue to be an urgent environmental concern for disposal and destruction. GCE has agreements in place with the leading pyrolysis system manufacturer from China, permitted facilities, ample feedstock, EPA and offtake agreements for carbon, steel and fuel. In addition to off-take purchase
agreements the Tt2F, the company receives supplementary recovery fees (referred to as
tipping fees), which makes the return on investment attractive and provides a cushion
against market volatility.
PGM (below)
A catalytic converter is an emissions control device integrated
into the exhaust system of domestic automobiles, trucks and
industrial vehicles. They contain a honeycomb like structure
that is made of ceramic, which includes amounts of Platinum,
Palladium and Rhodium (Platinum Group Metals - PGM)
GCE has been actively perusing an acquisition in the PGM recovery industry. GCE has
completed extensive due diligence on three different PGM operations and concluded
that its focus must be on the smelting side of the industry as opposed to the collection
side.
The collection side has an inherent risk associated with the lag time between
collection operations and the final settlement with the smelters. This is the root of the
problem and many firms have been are adversely affected by this variable, with notably
fallout in the industry. Margins are unpredictable without firm control of the smelting side
of the business where net assay values are determined. GCE has placed a deposit for
smelting equipment as it continues to evaluate opportunities in the smelting sector to
mitigate the lag time risk.
(TEAC) (below)
The EcoAppCompany
GCE recently acquired The EcoAppCompany (temp site
www.theecoappcompany.com ) The acquisition is part of GCE
diversification strategy into two distinct businesses; conversion
facilities and digital platforms.
GCEs management has deep
roots in the digital and clean tech space. Digital mediums will
continue to play an increasingly important role in the energy
efficiency and clean tech sectors.
GCE goal in the digital arena is to accelerate the adoption and installation energyefficient
technologies in the residential and commercial markets. GCE is committed to
several strategic markets where it feels it can have an immediate impact and develop
strong user loyalty with its user driven interfaces.
The energy industry is changing rapidly. Globally, 'smart energy
solutions will exceed $100 billion in revenue by 2020, according to
Green Tech Media.
GCEI will generate revenue from transactions
fees, e-commerce, and affiliate sales. GCE is also embracing user-driven marketing strategies that are widely used by a growing number of corporations. GCE is taking a strong stance in user driven markets, engaging its customers in the most fundamental way; allowing them a say in what products, programs and services are offered by the company and how. Achieving engagement with a customer is about meaningful interaction with the consumer while building better products and market in a more relevant way - add value to the relationship with the consumer.
http://globalcleanenergy.net/images/briefs/business%20brief.pdf
Contact Information:
Investor Relations
713-852-7474
Featured Product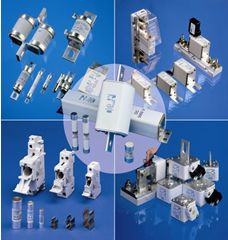 SIBA Fuses: your trusted source for all your circuit protection applications, from solar power to wind power. We are the world leaders in these applications and the most trusted name for your circuit protection needs. We have been working for over 70 years in semiconductor fuses, including ULTRA RAPID®, medium, and high voltage, standard European, miniatures, electronic fuses, and a wide range of DC rated fuses (24 VDC - 5000 VDC) for all types applications. We work with medium and high voltage fuses for protection of transformers, including submersibles, motors, medium and high voltage switchgear, compact substations, cable feeders, and high voltage capacitor circuits. New: Full line of PV UL Listed fuses and fuse holders. Contact us today for more information on our products and services.