Feed-in tariff investors present three alternatives to gov't, including accommodating domestic arbitration
Investors in FiT projects offer price cuts for currency guarantees, international arbitration: A number of investors in renewable energy project sunder the feed-in tariff system have presented the Electricity Ministry with three policy alternatives given its stance on enforcing domestic arbitration clauses and international financiers' refusal, Al Mal reported. The first option entails reducing the electricity purchase price to USD 0.08 per kW and in return, international arbitration is allowed. The second option, reduces the price further to USD 0.078 kW but requires guarantees to investors that USD liquidity will be available as well as international arbitration. The investor will only accept domestic arbitration clauses if the purchase price was USD 0.095 per kW and they are guaranteed expediting their projects and obtaining the necessary permits.
12 investors have agreements, now looking to replace international financing that backed out: A source told Al Mal that 12 investors, including international companies, have already agreed to terms that include domestic arbitration and are now focused on securing funding after their original international lenders pulled out over the state's insistence on domestic arbitration. These include the Nile Capital Investments-owned Delta for Renewable Energy, which has reached an agreement with a state-owned bank to fund 50% of the project, after its international funder pulled its 80% commitment over the issue of domestic arbitration. Cairo Solar is seeking new international lenders and is in talks with four Egyptian banks to replace those who have pulled out, said Cairo Solar CEO Hisham Tawfik, Al Borsa reports.
Featured Product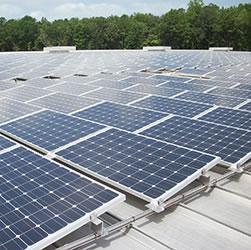 The Power Rail™ Commercial Mounting System is designed with the professional PV solar installer in mind. Both the XD/UD and LD/MD rails feature single tool assembly with the revolutionary patented RAD™ Lock-in-Place bolt for fast and secure module clamping. The high strength marine-grade aluminum rails include an integral wiring channel for securing cables and providing a professional finish.