• GE to Introduce the Japanese Solar Industry to the 1.5kV Solar Inverter Technology • GE Will Help Looop Co. Ltd. Become the First 1.5kV Photovoltaic System Builder and Owner in Japan
IBARAGI, JAPAN—July 19, 2016—Global trends in solar indicate a bright future for 1.5kV solar technology. With higher photovoltaic (PV) modules per string and increased efficiency compared to 1-kilovolt technology, GE (NYSE: GE) and Looop are at the forefront of making the Japanese solar industry among the most advanced in the world. According to GTM Reseach, an estimated 92.7 percent of future global projects will be based on 1.5-kilovolt technology.

In the first pilot project, GE will provide two 1-megawatt, 1.5kV LV5 inverters to Looop Co., Ltd. With this initial project in Ibaraki, Japan, Looop will become the first company to actively use 1.5kV technology in Japan. GE is a leading player in this field with its LV5 1.5kV solar inverters having already being installed at the heart of numerous solar installations around the world.
Soichiro Nakamura, president of Looop Co., Ltd. said, "In becoming the first 1.5kV PV systems builder and owner in Japan, we are excited to be partnering with GE, who has been at the forefront of introducing this technology to the global solar industry. We are confident that through this collaboration and by working together with one of the leading industrial companies, we will help the Japanese solar industry leap forward into a new era."
GEs Power Conversion business LV5 1.5kV inverters provide a host of benefits compared to the current standard market offering of 1kV inverters. As a result of the higher DC voltage, GEs technology enables a reduced number of electrical components, thereby reducing the infrastructure, deployment and running costs of a solar plant—which is critical when Japan is facing a shrinking feed-in-tariff scheme. The LV5 product has been designed and tested for high reliability with reduced maintenance and replacement of components required in the inverter over a solar plants lifetime of more than 20 years.
"GE is delighted to be introducing the Japanese solar industry to the future of solar inverter technology. Our 1.5kV solar inverters have been well received in diverse markets in North America and beyond. We are convinced that working together with Looop, we will be successful in generating significant interest for our new technology in Japan," said Peter Oram, global renewables sales leader, GEs Power Conversion business.
Delivery is planned for the end of 2016.
About GE
GE (NYSE: GE) is the worlds Digital Industrial Company, transforming industry with software-defined machines and solutions that are connected, responsive and predictive. GE is organized around a global exchange of knowledge, the "GE Store," through which each business shares and accesses the same technology, markets, structure and intellect. Each invention further fuels innovation and application across our industrial sectors. With people, services, technology and scale, GE delivers better outcomes for customers by speaking the language of industry. www.ge.com
About GE Energy Connections
GE Energy Connections designs and deploys industry-leading technologies that turn the world on. We transport, convert, automate and optimize energy to ensure we provide safe, efficient and reliable electrical power. Uniting all the resources and scale of the worlds first digital industrial company, we connect brilliant machines, grids, and systems to power utility, oil & gas, marine, mining and renewables customers, that keep our world running. For more information, please visit www.geenergyconnections.com.
About GE Power Conversion
GEs Power Conversion business, a business unit of GE Energy Connections, applies the science and systems of power conversion to help drive the electrification of the worlds energy infrastructure by designing and delivering advanced motor, drive and control technologies that evolve todays industrial processes for a cleaner, more productive future. Serving specialized sectors such as energy, marine, oil and gas, renewables and industry, through customized solutions and advanced technologies, GE Power Conversion partners with customers to maximize efficiency. To learn more, please visit: www.gepowerconversion.com.
Follow GEs Power Conversion business on Twitter and on Linkedin.
About Looop
Looop was established in 2011 and desires to diffuse renewable energy under the mission 'Bringing renewable energy close to you. 'My Power Plant Kit which was developed by Looop for self-building needs, was well perceived due to its cost performance and price transparency. So far, cumulative sales unit is reaching over 1,600 and deployed at all prefecture in Japan. Looop launched low voltage electricity retail business based on the new communication message 'Be Natural for electricity and 'No basement cost, pay as you use from April 2016.
To learn more, please visit https://looop.co.jp/english/corporate/.
Featured Product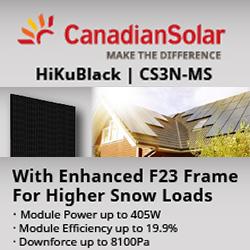 Aesthetic appearance for residential systems: With black backsheet & black frame, Power range 380 ~ 405 W, Low power loss in cell connection. Enhanced reliability: · Low temperature coefficient (Pmax): -0.34 % / °C, LID LeTID less than 2.0%, Lower hot spot temperature, Better shading tolerance.