World Patent Marketing Reviews A New Energy Invention. Will Pyramid Solar Solutions Be the Next World Patent Marketing Low Cost Success Story?
World Patent Marketing, a vertically integrated manufacturer and engineer of patented products, announces Pyramid Solar Solutions, a portable and renewable energy source.

"The Solar Power market in the U.S. is worth $3 billion annually," says Scott Cooper, CEO and Creative Director of World Patent Marketing. "The industry will become more viable in the next five years based on increased interest in renewable energy."
"Renewable energy is something that we have closely looking into at WPM,"says Jerry Shapiro, Director of Manufacturing and World Patent Marketing Inventions. "Pyramid Solar Solutions harnesses the power of the sun and stores it in a compact and portable device for home, commercial, or industrial use."
Pyramid Solar Solutions comes in three models that can handle different demands. Khufu is small and perfect for digital devices. Ghiza, on the other hand, is meant for smaller appliances; while the biggest one Khufu, can handle large appliances or machines which are permanent in nature. It is perfect for camp sites, boats, RVs and other outdoor activities.
"Pyramid solar solutions provides free solar energy, with sleek-looking pyramid design which combine style with functionality, " says inventor Darryl H. "It is simple and easy to use, just put the unit in the sun and plug in for power to any appliance."
Clark Higgins, a solar power enthusiast from Riverside County, CA, has this to say about Pyramid Solar Solutions: "People are using more and more energy, and it is only a matter of time before the earth's resources run out. Pyramid Solar Solutions offers everyone a chance to do their share in protecting the environment."
Pyramid Solar Solutions is an energy invention with an internal rechargeable battery that allows it to be used even during the night.
ABOUT WORLD PATENT MARKETING
World Patent Marketing is an innovation incubator and manufacturer of patented products for inventors and entrepreneurs. The company is broken into eight operating divisions: Research, Patents, Prototyping, Manufacturing, Retail, Web & Apps, Social Media and Capital Ventures.
As a leader in patent invention services, World Patent Marketing is by your side every step of the way, utilizing our capital and experience to protect, prepare, and manufacture your new product idea and get it out to the market. Get a patent with World Patent Marketing and the company will send representatives to trade shows every month in order to further advocate for its clients. It is just part of the world patent marketing cost of doing business.
World Patent Marketing Reviews enjoy an A+ rating with the Better Business Bureau and five star ratings from consumer review sites including: Consumer Affairs, Google, Trustpilot, Customer Lobby, Reseller Ratings, Yelp and My3Cents.
World Patent Marketing is also a proud member of the National Association of Manufacturers, Duns and Bradstreet, the US Chamber of Commerce, the South Florida Chamber of Commerce, the Greater Miami Chamber of Commerce, Association for Manufacturing Excellence, and the New York Inventor Exchange.
Featured Product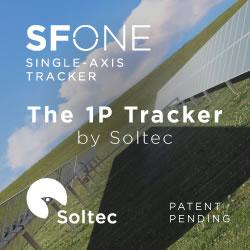 SFOne is the 1P single-axis tracker by Soltec. This tracker combines the mechanical simplicity with the extraordinary expertise of Soltec for more than 18 years. Specially designed for larger 72 an 78 cell modules, this tracker is self-powered thanks to its dedicated module, which results into a lower cost-operational power supply. The SFOne has a 5% less piles than standard competitor, what reduces a 75% the labor time.