Global Investments & Technological breakthroughs mark the 10th edition
• REI : (September 7-9) South Asias leading Renewable Energy Trade Expo by UBM India; 40 participating countries, over 650 exhibitor, 1000 + Delegates, estimated to attract over 25,000 visitors

• Three day power packed conference - "Renewables : Surging Ahead": (September 7-9) Conference to highlight innovations, challenges and way forward
• 2nd edition of Renewable Energy India Awards: ( 6th September ) To recognize Innovation & Excellence in the Renewable Energy Industry
New Delhi, 28st July 2016: UBM India, Indias leading exhibitions organiser will host the 10th edition of its flagship event, Renewable Energy India Expo (REI) from 7th to 9th September 2016 at the India Expo Center, Greater Noida. REI is a global platform where Indias green economy community including overseas participants will congregate to discuss industry trends, challenges and market insights including the Indian regulatory framework. The event aims to further upscale and mainstream the applications of renewable energy resources, showcase product launches, innovations and augment the forethought through international exhibition and conference platform.
REI 2016, the 10th anniversary of the expo will see participation from countries such as India, Japan, Switzerland, USA, Korea, Taiwan, China, Australia, Italy, Canada, Malaysia, Netherlands, Israel, Germany, Spain, Singapore, Belgium and is supported by the Ministry of New and Renewable Energy, Govt of India (MNRE), Indian Renewable Energy Development Agency Ltd (IREDA), Solar Energy Corporation of India Limited (SECI), National Institute of Wind Energy (NIWE) and International collaboration through Indo German Energy Forum (IGEF) and Bloomberg New Energy Finance(BNEF).
The expo is certified by UFI, The Global Association of the Exhibitions Industry and will see the presence of key dignitaries, Shri. Upendra Tripathi, Secretary, Ministry of New and Renewable Energy, Government of India; Shri Ashvini Kumar, Managing Director, SECI; Shri K.S. Popli, CMD, IREDA; Mr. Simon Stolp, Lead Energy Specialist, World Bank; Mr. AK Jain, CMD, Rajasthan Electronics and Instruments Limited. Mr. Justin Wu, Head of Asia, Bloomberg New Energy Finance; Honble Mr. James Gordon Carr, Minister of Natural Resources, Canada and Mr. Munehiko Tsuchiya, Executive Director, NEDO, Japan amongst others.
Bringing together Manufacturers, EPC, and service provides, the expo will have over 650 exhibitors including companies like Lerri Solar, Adani, Skypower, Trina Solar, Tata Power, JA Solar, KRYFS, Suzlon, Solargise, Waaree, Vikram Solar, L&T, Rays Power, Canadian Solar, Sova Power, Azure Power, Delta Power, Fronius, SMA India, Huawei, Bosch, ABB India, Moser Baer, Talesun Power, Mahindra Susten, GCL, Senvion, Gamesa India, Inox Wind, DHHI, Renesola amongst others. The show will feature country pavilions from Japan, Canada, Italy, Taiwan and China.
Highlights of the expo include a power packed three-day conference themed "Renewables : Surging Ahead" with content rich sessions by MNRE, Bloomberg New Energy Finance, IBA, IGEF, Bridge to India, Solar Thermal Federation of India, Council on Energy Environment and Water (CEEW), Mercom and NIWE. The sessions will cover various key topics such as 'Market landscape: Taking stock of Indias RE goals; milestones achieved; and challenges ahead, 'Tipping Point: The rising trend of Competitive Bidding, 'Wind: Policy Roadmap for the 60 GW target; How far we have reached; What are the specific challenges of the sector; Financing challenges for the Offshore and policy incentives, 'Looking Beyond Installation: Operation and Maintenance towards Sustainability of Long Term Projects, 'On Top of the Roof: Assessing the 40 GW of Rooftop target in respect to residential Solar and 'Riding the Manufacturing high: , How Much? How Far? How Long? Make in India to enhance the usage of Renewable Energy in India. Eminent industry speakers from across the world such as Mr. Simon Stolp, Lead Energy Specialist, World Bank, Mr. Praveer Sinha, CMD, Tata Power DDL; Sanjay Sharma, Head of Contracts, SECI; Sanjay Mandavkar, Sr. President, Corporate Finance, YES BANK; Sunil Jain, MD, Hero Future Energies; .Mr. Gyanesh Chaudhary- MD & CEO, Vikram solar; David Keck; President and CEO, GTAT technologies, USA ; Pankaj Batra, Chief Engineer, Central Electricity Authority, Gerhard Mütter ,Technical Director, Alternative Energy Solutions GmbH, Austria, Dr. Klaus Eberhardt, Technology Manager, M+W Group, Sutterlueti, Juergen , Head of Energy Segment and Business Development, Gantner Instruments Group , Austria amongst other industry stalwarts will discuss on key issues and trends related to Renewable Energy.
Other highlights include World of Innovation Arena for Tech talk & Product launch, Multiple workshops, CEO conclave, Session on Smart Grid, Finance Roundtable and a Skill development program by National Institute of Wind Energy.
The expo will also take forward the hugely popular Business Plan Competition in association with TiE ( Delhi ) where selected entrants would present an innovative business idea, which will be rated by the jury comprising Investors, Entrepreneurs and Tech Gurus. The program will kick-start with an engaging Panel Discussion on 'Opportunities in Cleantech & Renewables Sector: Scenario for Entrepreneurs. This will be followed by individual pitches by selected entries and unveiling of their Business Plans for which the best ideas will be awarded. Taking it further a specific Ideation Table, delving deeper on each component with the subject expert will be conducted that will provide a unique opportunity for the budding entrepreneurs to be mentored by the best in the Industry.
Speaking on the announcement of the 10th anniversary of Renewable Energy India, Mr. Yogesh Mudras, Managing Director, UBM India said, "India is set for a period of rapid and sustained growth in energy demand and plans to quadruple its renewable power capacity to 175 Gigawatt by 2022 as part of the governments plan to supply electricity to every household. India, home to 18% of the worlds population, uses only 6% of the worlds primary energy. Indias energy consumption has almost doubled since 2000 and the potential for further growth is enormous. Developing a robust ecosystem is the need of the hour and UBM India with REI stands ready to support this vision by serving as an Industry catalyst in bringing the technology and the international fraternity including investors to India to enable potential projects and set up manufacturing units under the 'Make in India campaign."
"This year, we have also reached an important milestone and achieved a new momentum with the 10th anniversary of the expo. The expo will provide a perfect platform for stakeholders from the renewable energy community to come together and address challenges that have acted as speed bumps to this growth. It will have multiple country participation, best of technology, cost effective solutions, participation of Industry leaders, various country delegation, top global brands exhibiting their product and solution offerings and content rich conferences." he added.
The trade show will also be preceded by the 2nd Renewable Energy India Awards, slated for 6th September, 2016 that aims to recognise the efforts, innovation, and excellence and promote the talent in the industry. The Awards will have an august audience of industry stalwarts competing under various categories from both manufacturing & implementing communities.
About UBM India
UBM India is India's leading exhibition organizer that provides the industry with platforms that bring together buyers and sellers from around the world, through a portfolio of exhibitions, content led conferences & seminars. UBM India hosts over 25 large scale exhibitions and 40 conferences across the country every year; thereby enabling trade across multiple industry verticals. A UBM Asia Company, UBM India has offices across Mumbai, New Delhi, Bangalore and Chennai. UBM Asia is owned by UBM plc which is listed on the London Stock Exchange. UBM Asia is the leading exhibition organizer in Asia and the biggest commercial organizer in mainland China, India and Malaysia. For further details, please visit ubmindia.in.
Featured Product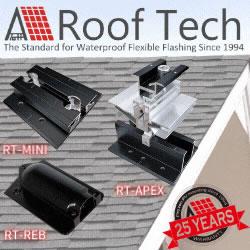 Now Roof Tech brings you the most innovative, watertight mounting systems ever developed for solar photovoltaic systems. Designed and manufactured exclusively for us by Japan's longtime leader in roofing technologies, Roof Tech products are 100% code-compliant and offer fast, simple installation and huge savings on shipping costs due to their compact, rail-less design. Learn more about our full line of versatile PV mounting solutions now available for residential installations. The next generation in rooftop solar mounting solutions."