Steve McMahon. VP Sales and Marketing Orenda Energy Solutions believes that there is still a very healthy return to be had in the small-medium wind market, even in light of the slashed FiT.
On the back of the most recent dramatic cuts in the UK FiT for small-medium scale wind turbines, there is only one band that provides attractive returns given the right wind turbine in the right site - the 0-50kW band.

Moreover, the sub 50kW band appears to present an exceptionally strong business opportunity as the Department of Energy & Climate Change (DECC) strongly indicated that it was their intention to have this 'band' relatively unconstrained and therefore attractive to investors.
However, to qualify for the FiT in this band, the wind turbine must be fully certified via the MCS (Microgeneration Certification Scheme). And whilst this is an expensive and time consuming activity, it does serve to eliminate the weaker suppliers. As it stands, Wind Turbines above 50kW do not need MCS certification.
The recent changes to the FiT by DECC resulted in poor returns for those wanting to develop sites for turbines in the >50kW space.
Fortunately, Orenda was able to modify its 51kW wind turbine to become a 49kW wind turbine as a result of the unique and flexible proprietary control system that lie at the heart of our 51kW Skye Turbine.
This might be a big ask for others within this space to do likewise, so this top end of the FiT band continues to remain a promising prospect for the savvy investor via the Skye turbine, once our MCS certification is completed in the next couple of months.
There are clearly exciting times ahead for the savvy investor who sees the benefits of the sub-50kW turbine market. Above that threshold, it becomes more difficult for small-medium wind turbine suppliers to offer the investor a sufficient return.
Above all, the investor community can develop a portfolio of assets that incorporates 'small wind' and this will continue to remain an attractive proposition.
Featured Product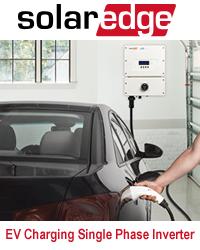 The SolarEdge PV inverter combines sophisticated digital control technology with efficient power conversion architecture to achieve superior solar power harvesting and best-in-class reliability. The fixed-voltage technology ensures the solar inverter is always working at its optimal input voltage over a wider range of string lengths and regardless of environmental conditions. A proprietary data monitoring receiver has been integrated into the inverter and aggregates the power optimizer performance data from each PV module. This data can be transmitted to the web and accessed via the SolarEdge Monitoring Portal for performance analysis, fault detection and troubleshooting of PV systems.