Inverter manufacturer Fronius and semiconductor company Maxim Integrated Products, Inc. have expanded their collaboration to provide new levels of DC optimization to solar solutions.
Portage, IN, September 2016 - Inverter manufacturer Fronius and semiconductor company Maxim Integrated Products, Inc. have expanded their collaboration to provide new levels of DC optimization to solar solutions.

Multiple orientations, module mismatch, degradation or soiling are reasons why solar installers choose module level power electronics (MLPE) for their installations. Unfortunately, traditional optimizers or micro-inverters have significant downsides. Not only are they costly, but also time-consuming to install and difficult to service while far from performing efficiently. Therefore, it's time for the next step in DC optimization.
Through close collaboration, Fronius SnapINverters and Maxim solar cell-string optimizers are now able to deliver new levels of seamless integration and high performance. Fronius has a long history of working successfully with Maxim and has committed significant engineering resources into the collaboration.
"Our engineers conducted long-term testing and focused on both stability and performance of systems with Maxim optimizers", says Tristan Kreager, Director of Solar Energy at Fronius USA. "Fronius collaboration with Maxim demonstrates both companies commitment to providing flexible system design and ease of installation with this new generation of solar optimization."
The Maxim chip-based cell-string optimizer replaces the traditional bypass diode and equips each solar module with 3 optimizers, each independently performing maximum power point tracking (MPPT) - resulting in the best-in-class solution for shade mitigation, string mismatch, and soiling. Furthermore, the solution offers unparalleled design flexibility. It accommodates multiple orientations, different modules, and shading or asymmetric designs with up to 20% difference in string length. The tolerance for shading allows for the tightest of row spacing in commercial rooftop systems without any limitations.
"As a leading inverter manufacturer and trusted brand, Fronius is a great collaboration partner for Maxim. Together we can provide the market with a reliable, cost-effective, and high-performing solution for solar optimization," says Seth Kahn, Executive Director, Solar Products, Maxim Integrated.
Since off-the-shelf Fronius SnapINverters (Galvo, Primo and Symo lines) work seamlessly with Maxim cell-string optimizers, the installation process is identical to any standard system. There are no additional hardware components to install, no extra settings to make and no communication hassles on the roof. The deeply embedded optimizer eliminates the need for any extra installation step, which aligns with Fronius strong focus on best user-experience.
Modules with Maxims optimizer technology are available now and work seamlessly with off-the-shelf Fronius SnapINverters, which are fully available on the market. Visit Fronius at this years Solar Power International in Las Vegas (booth #1521) to learn more about solar cell-string optimization and Fronius solar solutions.
About Fronius
Fronius USA LLC, headquartered in Portage, Indiana, is a leading manufacturer for solar solutions and has been shaping the US solar industry since 2002. The company is the biggest subsidiary of Fronius International GmbH, headquartered in Austria. Fronius has three divisions: Perfect Welding, Solar Energy and Perfect Charging. Through innovation and new technologies, Fronius has become a leading resource for high quality solutions in each industry they serve. Fronius innovation is guided by a vision of 24 hours of sun, a future where 100% of energy needs are covered by renewable energy. For more information, visit www.fronius-usa.com.
Featured Product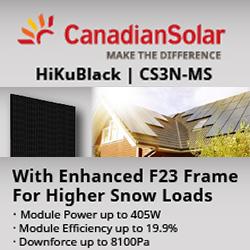 Aesthetic appearance for residential systems: With black backsheet & black frame, Power range 380 ~ 405 W, Low power loss in cell connection. Enhanced reliability: · Low temperature coefficient (Pmax): -0.34 % / °C, LID LeTID less than 2.0%, Lower hot spot temperature, Better shading tolerance.