Company invites Solar Power International attendees to see their project data transformed
LAS VEGAS--(BUSINESS WIRE)--SOLAR POWER INTERNATIONAL — SunLink Corporation's next-generation, secure project optimization platform VERTEX now features expanded electromechanical monitoring capabilities that provide detailed operational alerts on inverters, trackers, communication networks, met stations and other project systems. In addition to informing stakeholders with real-time performance data, the platforms new O&M module flags operational issues in need of troubleshooting, provides historical alert and maintenance logs, allows remote control of energy assets and facilitates team dispatch. First introduced in April 2016 as an iOS app, the platform is now also available via any internet-connected device.

"We developed the VERTEX platform to solve a wide-range of solar project limitations and open up business opportunities for more players, fostering industry growth," explains SunLink CEO Michael Maulick. "In this case, VERTEXs O&M module takes direct aim at the looming economic risk posed by long-term O&M costs by making it possible for the first time to model those costs with accuracy. It also provides a platform on which middle market O&M providers can build a more profitable and competitive business through delivering accurate long-term contracts and servicing projects more efficiently. That translates into a larger universe of solar infrastructure that pays reliable, long-term dividends. Ultimately, VERTEX is encouraging more investment in the solar space."
SunLink VP of Products Kate Trono explains, "Were our own most demanding VERTEX customer, as our PowerCare O&M team relies on VERTEX to streamline its operations. But at the same time, the PowerCare team is also our most valuable software development partner as their solar services best practices inform VERTEX novel approach to device alerts and O&M team workflow. Most significantly, VERTEX industry-leading cybersecurity enables project stakeholders to remotely manage their fleet, resulting in fewer on-site visits, immediate responses to abnormal energy performance and an increase in energy and financial yields - which is a transformative business advantage. Our goal is to equip other O&M providers with the same capabilities that PowerCare is leveraging as a means to improve O&M economics and effectiveness across the industry."
The VERTEX platform was born from SunLinks development of its next-gen TechTrack Distributed single-axis tracker. More and more solar developers are electing to install distributed solutions, which have thousands more electromechanical components to monitor and optimize than centralized systems. Therefore, it was essential that SunLinks tracker solution coupled electromechanical innovation with the advanced technology necessary to accurately model two decades or more of operation and maintenance costs up front and at the same time target and simplify any necessary maintenance over the life of the system.
VERTEX is also the brain behind SunLinks continued mounting system evolution. The real-time data captured by the platform has enabled SunLink to incorporate dynamic design features into its mounting systems that respond to environmental conditions in real time, driving out costs. All of these capabilities are only made possible because VERTEX devices and the software platform are protected by the highest levels of cybersecurity, including multi-factor protocols such as biometrics and tokenization, among other measures.
Companies who own, develop or service solar projects are invited to visit SunLinks booth 2037 at Solar Power International in Las Vegas, from September 13-15, to experience VERTEX first-hand and see how dynamic design has been used in the companys TechTrack single axis tracker to usher in a new era of distributed tracker technology. The company will also demonstrate how wrapping VERTEX over legacy data monitoring systems can produce new visualizations of project and portfolio data that are more valuable to solar businesses.
For more information about SunLinks VERTEX technology, watch the YouTube video series at http://bit.ly/20vaBAU.
About SunLink
SunLink Corporation brings powerful solar energy solutions to market through innovative, highly engineered products, in-demand customer services and best-of-breed software that make solar PV electricity easier, safer, more reliable and less expensive to install. In addition to bringing to market well-designed products that are agile in their implementation, the company leverages unparalleled R&D, a legacy of more than a GW of successful projects, state-of-the-art engineering and creative problem solving to develop optimized, full-scope product+service+software solutions for roof and ground-mount solar projects of every size and complexity. It is this unique combination of trusted insights, products, services and EnTech convergence that helps solar developers and installers overcome obstacles and furthers the industrys shared mission of advancing universal solar power adoption. For more information, visit www.sunlink.com or follow twitter.com/sunlink.
Featured Product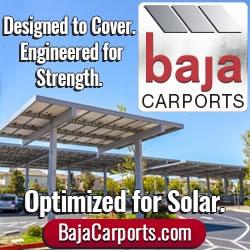 Baja Carports offers an extensive solar support system product line customized to customers' site specifications by in-house engineers, meeting their parking lot coverage, plus optimal PV production needs. Baja's Full Cantilever Tee is often paired with its Semi and Full Cantilever carports to meet live/loads up to 60psf and wind speeds to 160mph. All Baja products are pre-fabricated, bolted connections, pre-galvanized structural steel for fast on-site installation and project aesthetic requirements."