Also on display at booth 2259 will be Delta's complete product line of 3-phase transformerless PV inverters
LAS VEGAS, Sept. 12, 2016 /PRNewswire/ -- Delta Group, a global leader in power and thermal management solutions, debuts its latest Power Conditioning System (PCS) at Solar Power International today through the 15th. Designed to convert power between static energy storage and the grid with top-of-the-line efficiency, Delta's PCS is a bi-directional conversion system that offers both energy management and power quality management capabilities. The company is also showcasing its comprehensive line of 3-phase photovoltaic (PV) inverters, which convert direct current (DC) output from a photovoltaic system into a utility frequency alternating current (AC) output, for residential, commercial and industrial applications.

"Making the most out of the renewable energy we currently have on hand is key to reducing our reliance on fossil fuels and creating a more sustainable future," said M.S. Huang, President of Delta Americas. "With our new Power Conditioning System and line of PV Inverters, which feature high-end efficiency ratings, we're enabling homes, businesses and utilities to optimize their energy usage within the built environment. These products create value not only for our customers, but for society as a whole."
Power Conditioning System
Delta has introduced its new 480 VAC/125kW PCS to enhance the value of energy storage and ensure interconnectivity and quality power between renewable sources, energy storage technologies, the power grid, and consumers. Serving as the cornerstone of the company's new line of energy products, the bi-directional system works by converting AC power from the grid and photovoltaic inverters to DC power for static energy storage applications. When called upon, the PCS converts the stored energy back to AC power for seamless use by end users. With an impressive high-efficiency peak of 97.8 percent and a California Energy Commission (CEC) efficiency of 97.6 percent, Delta's PCS ensures that consumers are getting the most out of their renewable resources and grid energy purchases. The solution, which is scalable up to 500 kW in parallel configuration, is designed for easy installation with straightforward wiring and integrated AC/DC switches. The Delta PCS solution also includes energy management and power quality management add-on features.
For commercial and industrial structures, the Energy Management application has a Peak Shaving Mode that allows for increased control over energy consumption and demand charges, such as fees based on a customer's peak utility energy usage during a billing cycle, typically measured as a 15-minute interval. In this mode, when peak power consumption exceeds average value, the system will dispatch stored energy to reduce the amount of energy purchased from the grid, thus lowering utility costs.
For power providers, the Grid Power Quality Management application can compensate for poor grid voltage and frequency by providing both reactive and active power.
3-Phase PV Inverters
Also on display will be Delta's line of 3-phase PV inverters (80/60/42/32/28/24 kW), which offer energy conversion solutions for commercial facilities and utility scale projects. Earlier this year, Delta released its latest inverter model, the M80U, vertical and horizontal mount UL listed 80kW transformerless string inverter with an industry-leading peak efficiency of 98.8 percent and a California Energy Commission (CEC) efficiency of 98.5 percent. Each of Delta's inverters boasts easy installation, maximum efficiency and a much wider power range than competing alternatives.
For more information on Delta's renewable energy solutions, please visit: http://www.delta-americas.com/Solutions/RenewableEnergy
About Delta Americas
Delta Americas was established 33 years ago and has grown to over one thousand employees in recent years. Delta has offices, R&D centers, manufacturing, distribution and repair centers in multiple locations in the U.S., Mexico, and South America. In the U.S, operations are located in Fremont, Los Angeles, San Diego, Portland, Austin, Dallas, Houston, Raleigh, Boston and Detroit to better serve its diverse customer base. Outside the U.S. Delta continues to expand its Americas operations in Mexico, Argentina, Brazil and Canada.
Delta Americas serves the IT, communications, industrial automation, renewable energy, lighting, power tool, automotive electric vehicle, and other major industries. Products include power electronics, DC brushless fans, visual displays, industrial automation, networking products, electronic components, consumer products, energy efficient and renewable energy products to name a few. The company is always striving to define new ways to improve the energy efficiency of its products through advanced research and product development.
For more information, please visit: www.delta-americas.com
About Delta
Delta, founded in 1971, is a global leader in power and thermal management solutions and a major player in several product segments such as industrial automation, displays, and networking. Its mission statement, "To provide innovative, clean and energy-efficient solutions for a better tomorrow," focuses on addressing key environmental issues such as global climate change. As an energy-saving solutions provider with core competencies in power electronics and innovative research and development, Delta's business domains include Power Electronics, Energy Management, and Smart Green Life. Delta has 153 sales offices, 61 R&D centers and 40 manufacturing facilities worldwide.
Throughout its history, Delta has received many global awards and recognition for its business achievements, innovative technologies and dedication to corporate social responsibility. Since 2011, Delta has been selected as a member of the Dow Jones Sustainability™ World Index (DJSI World) for 5 consecutive years. In 2014, Delta was ranked by CDP (formerly the Carbon Disclosure Project) at the highest A-level of the Climate Performance Leadership Index (CPLI), and is the only company from nearly 2,000 listed companies in Greater China to make the CPLI list.
For more information about Delta, please visit: www.deltaww.com.
Featured Product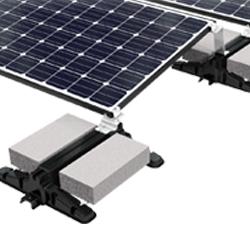 Preformed Line Products introduces the POWER MAX Ballasted Roof Mounting System. The POWER MAX solar mounting system is engineered to maximize energy output on commercial flat roofs. Developed with the professional installer in mind, this system offers adjustable inter-row spacing in the field of up to 11 inches. It features 50% fewer components and a simplified design resulting in faster assembly rates and labor savings on every project. Available in a flush mount, 5˚ or 10˚ tilt or higher density dual tilt design, the POWER MAX base arrives stacked on pallets providing easier transport to the roof. Engineered as a fully ballasted, non-penetrating system, it accepts standard concrete blocks and is qualified by wind tunnel testing.