New technologies have a common theme: making advanced PV systems with energy storage easier than ever to design, install, and manage.
ARLINGTON, Wash.--(BUSINESS WIRE)--OutBack Power Technologies, Inc., a designer and manufacturer of advanced renewable energy systems and products, unveiled the FLEXmax Ultra 300V family of charge controllers during Solar Power International, September 12 to 15 in Las Vegas. OutBack Power also showcased its new ICS+ Integrated Combiner Solution among its product additions, which were designed to improve the efficiency and economics of solar installation for contractors, installers, and system owners.

Continuing the trend toward easier and simpler PV installation, OutBacks family of FLEXmax Ultra 300V charge controllers have code-mandated safety features built-in, like ground-fault sensing and options for arc fault detection. The Ultras higher power rating makes it possible for installers to design systems with longer solar panel "strings" using fewer components, saving installation time and reducing cost.
"OutBack Power started and built its reputation with the first multi-voltage MPPT charge controllers, making it possible to cost-effectively extract the highest solar electricity harvest possible from a photovoltaic array. OutBack FLEXmax MPPT charge controllers went on to become the de facto industry standard, a position they still hold today," said Harvey Wilkinson, OutBack Powers general manager. "With the idea of 'tampering with success, FLEXmax Ultra is an ideal platform to meet installers need for accommodating higher-powered PV panels and systems. The new Ultra series gives them the ability to build more efficient PV systems, with fewer components without compromising the quality standard on which theyve come to depend."
There are three models in the new series, each capable of supporting up to 300Vdc of generated solar electricity. The 80A model eliminates the need for cooling fans entirely, while the two 100A models need only one to achieve the maximum thermal efficiency required to handle larger PV systems. Designing systems with longer PV module "strings" reduces the wiring, fusing and labor needed, which reduces costs and improves reliability. The top-of-the-line model, FLEXmax Ultra FM100-300Vdc-AFCI, has an integrated PV Arc Fault Circuit that detects, indicates, and interrupts series arcs, and meets the new National Electric Code (NEC) Article 690.11 requirements and listed to UL 1699B. This also saves money by eliminating the need for rooftop protection/shut down components and through further labor savings. The new FLEXmax Ultra charge controllers begin shipping in Q4 2016.
OutBack is also showed its new ICS+ Integrated Combiner Solution, which provides any system, battery based or grid-tied, with the safety and shut-down operation required by the National Electrical Code for rooftop-mounted solar arrays. Adding to the value proposition for solar designers and installers, OutBack also showed fleet-management enhancements to its trusted OPTICS RE control and monitoring technology, which provides sophisticated energy flow metrics at-a-glance, for users with multiple systems in campus or microgrid applications.
To learn more about OutBacks latest in its tradition of solar innovation, join the OutBack Power team at Solar Power International at booth #2825 or email sales@outbackpower.com.
About OutBack Power Technologies
OutBack Power Technologies, a member of The Alpha Group, is the leading designer and manufacturer of advanced power electronics for renewable energy, back-up power and mobile applications. Founded in 2001 with an emphasis on product performance and innovation, OutBack is now a brand leader in the renewables industry, backed by the resources of the 40-year-old Alpha Group. OutBack is established as the first choice of professionals designing systems for harsh environmental conditions and applications where reliability is paramount. Whether the application is village micro-grids in Africa, rural electrification projects in Latin America, remote off-grid cabins in Alaska, or a suburban home in Southern California, OutBack Power Technologies has set the bar for delivering advanced power conversion electronics. OutBack products and systems are sold through a network of distributors serving advanced solar installers around the globe. Famous for its legendary power electronics, OutBack is also a leader in the rapidly-growing field of energy storage for PV systems. For more information, please visit www.outbackpower.com.
Featured Product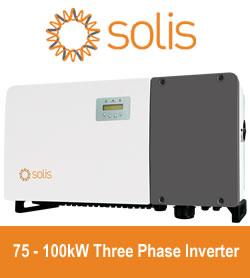 Solis75kW - 100kW series high-power string inverters are widely used in industrial and commercial rooftops. Solis's new three-phase string inverter is the first choice for industrial and commercial photovoltaics. 75-100kW three phase series string inverter have Maximum 28 strings input, support "Y" type connection in DC side. Maximum string input current 13A, support bifacial modules access.Supports anti-PID function to improve system efficiency.