Multiple finance products on single platform help U.S. solar companies sell more, faster
LAS VEGAS--(BUSINESS WIRE)--Solar Power International, Spruce Finance Inc. ("Spruce") is making residential solar finance sales easier than ever by adding a new solar loan to its existing power purchase agreement (PPA) and lease product suite. (The term "loan" includes both traditional loans and retail installment contracts, or RICs, which are available in different geographies.) The loan and PPA are available on Spruces new platform, SpruceFlow™, which uniquely allows solar companies to offer homeowners multiple products from a single finance provider, on a single platform, with a single credit check.

"Sales reps need to have the right product for the right customer, and they need a sales process thats fast and easy-to-understand," said Nat Kreamer, CEO of Spruce. "Offering homeowners both a loan and a PPA at the point of sale with a single credit check helps our partners reduce their acquisition costs and close more deals."
Spruces solar loan is both simple and flexible. It is available for a variety of homes, including townhomes, condos and duplexes, as well as for ground mounts. Sales reps can highlight either lifetime or immediate savings; tailor the product to homeowner preferences with a variety of tenor, APR and payment terms; and close the sale quickly with instant credit and e-signature options. The loan will be available in 25 states in October.
"Our position as financier allows us to control the terms of our products and make them attractive to both solar companies and homeowners," said Kreamer. "Spruce is a licensed consumer lender in 50 states and Washington, DC: that and our consistent access to low-cost capital makes us an ideal finance partner for solar companies across the U.S."
The SpruceFlow platform makes the sales process more efficient and improves salesforce productivity. Sales reps can prescreen prospects before the sale to improve conversion rates. In addition to qualifying homeowners for multiple products with a single credit check, sales reps can also toggle between products at the point of sale, allowing homeowners to compare their options. The platform intuitively guides the process, and is optimized for mobile and tablet during in-home sales.
About Spruce
Spruce™ is a technology-enabled provider of consumer financing for residential solar and home efficiency improvements. Its mission is to empower people to improve their environments. The companys national network of verified channel and contractor partners offer homeowners Spruce financing for technologies that can help them reduce their total utility spend on power, water, and heating and cooling. A private company headquartered in San Francisco, Spruce has raised more than $2B and serves more than 50,000 homeowners in all 50 states and Washington, DC. To learn more about the company, visit www.sprucefinance.com.
Featured Product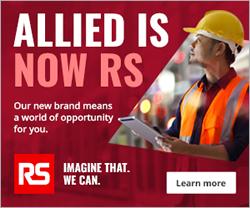 Moxa is a leader in edge connectivity, industrial computing, and network infrastructure solutions for enabling connectivity for the Industrial Internet of Things. With over 30 years of industry experience and 65 million devices connected worldwide, Moxa has a distribution and service network to serve customers in more than 80 countries. Now at RS-find over 1,000 products from Ethernet switches, protocol converters, routers, and more. RS Group is an authorized distributor of Moxa.