Winners Announced at Awards Ceremony at Solar Power International
September 14, 2016 - Yesterday, the Interstate Renewable Energy Council (IREC) honored national award winners for the Best of 2016 in renewable energy and energy efficiency. Celebrating 23 years of recognizing exemplary people, projects and programs, this year's winners are in five categories, three of which are People's Choice Awards, selected by more than 1,000 online voters. IREC 3iAward recipients were honored during an awards ceremony at Solar Power International, at the Las Vegas Convention Center.

"Through IREC's 3iAwards - celebrating Innovation, Ingenuity and Inspiration - we're proud to recognize programs, projects and individuals leading the way to a cleaner energy future," said IREC Board Chair Larry Shirley. "Their work is creating solutions to today's complex renewable energy and energy efficiency challenges - changing the national energy conversation and our communities in the process," added Ken Jurman, IREC board member and chair of the 3iAwards Committee.
"They are among our nation's most gifted energy trailblazers making a very real difference," said IREC President/CEO Larry Sherwood. "It's an honor to celebrate these visionary accomplishments and encourage others to be inspired by their successes."
The 2016 IREC 3iAwards are presented for: State & Local Government Achievement of the Year (People's Choice Award); Community Renewables Energy Project of the Year (People's Choice Award); Regulatory Champion of the Year (People's Choice Award); IREC Accredited Clean Energy Training Provider of the Year; and IREC Certified Clean Energy Trainer of the Year.
IREC's 2016 National 3iA
ward Recipients are:
State/Local Project of the Year | A People's Choice Award
American Renewable Energy Power and Village of Minster, OH
The Village of Minster, Ohio, a community of 2,900, is home to one of Ohio's largest solar projects, a 7MW PV installation/2.8MWh energy storage facility. Although Minster and American Renewable Energy Power (AREP) began the project in 2014, a freeze was placed on Ohio's renewable and energy efficiency standards for nearly two years. Since the array was commissioned in December 2015, Minster has seen a substantial savings in capacity and transmission charges, as well as a reduction in net peak demand.
The cost of solar power for the village is below the average market rate, while the power quality has increased dramatically across the utility distribution grid.
AREP estimates that more than 85% of those who worked on the project were local professionals, including engineers, solar installers, racking and inverter suppliers, electricians and attorneys. http://www.americanrenewable.com
Community Renewables Project of the Year |A People's Choice Award
Clean Energy Cooperative, Honesdale PA
Like most good stories, this one combines history and heroes - in this case, a community coming together for a sustainable future.
The Clean Energy Cooperative, Inc., a community-owned clean energy co-op, was founded in 2014. The idea was to use local investments to develop renewable energy demonstration projects that provide positive economic returns to its members. One year later, with a power purchase agreement (PPA) business model in place, the co-op received a $17K grant from the U.S. Department of Agriculture's Renewable Energy for America (REAP) program.
Looking for local, non-profits interested in going solar, Honesdale's historic Cooperage stepped forward as the co-op's first solar project. Originally built in 1861 by a local cooper, the Cooperage has withstood several incarnations since it was home to wooden barrel making.
Today, the Cooperage is a well-loved, non-profit community center and home to a 27kW rooftop solar PV system. The REAP grant funded 25% of the project. Co-op members covered the rest. A locally owned NABCEP-certified contractor designed, installed and commissioned the system. Designed to provide 100% of the building's annual usage, the PV system currently produces 20% more than the design target. http://www.cleanenergy.coop
Regulatory Champion of the Year | A
People's Choice Award
RENEW Wisconsin
Following proposed changes to electric utility company We Energies' (WE) net metering services and a $3.79/kilowatt "capacity demand charge" on net metered customers, RENEW Wisconsin led a multi-pronged, 16-month regulatory effort to counter the proposed changes, which had the potential to bring the still-nascent solar marketplace in southeast Wisconsin to a standstill.
When the Public Service Commission of Wisconsin approved WE's proposed changes to its net metering tariffs, RENEW successfully executed a challenge to the PSCW decision in Dane County Circuit Court. The court struck down the unprecedented demand charge, preserving the solar energy market in WE Energies territory. www.renewwisconsin.org
IREC Accredited Training Provider of the Year
NY State Weatherization Directors Association
The New York State Weatherization Directors Association (NYSWDA) serves its network of weatherization programs and home performance contractors across New York and parts of New England with a wide variety of building science training.
Since 2009, more than 3,000 students have taken classes in NYSWDA's state-of-the-art facility in Syracuse, NY. Its four instructors maintain necessary credentials to train at all functional levels, from basic installer to advanced diagnostician. Collectively, these instructors have more than 75 years of practical, hands-on building science experience to provide students with real world skills.
An IREC Accredited Training Provider since 2014, IREC's rigorous credentialing process allowed NYSWDA to go through a complete curriculum review and edit process that resulted in improvements to classroom training and lab exercises, and classroom and lab environment safety and ergonomics. Improved staff training oversight and operations resulted in a higher level of returning students and greater classroom attendance. www.nyswda.org
IREC Certified Clean Energy Instructor/Master Trainer of the Year
Christopher LaForge, CEO Great Northern Solar
Christopher LaForge, who has been designing, specifying and installing solar PV systems since 1988, has held IREC's Certified Master Trainer/PV Technologies certification since 2010. An advanced photovoltaic design and installation instructor with the Midwest Renewable Energy Association (MREA) for 24 years, LaForge was the primary developer of its PV curriculum. He's also a NABCEP certified Photovoltaic Installation Professional. His passion for teaching continues to unleash a steady outpour of highly trained solar professionals, many of whom have become solar instructors in their own right.
Throughout his career, LaForge has developed a deep and wide inventory of trainings and seminars on solar installation and instructor training with significant hands-on components. His trainings often end with a capstone project where students work on a PV project, gaining experience from design to installation to commissioning. He has developed numerous PV training lab facilities and is a co-author of "For Solar Educators & Trainers: Photovoltaic Labs Best Practices." https://greatnorthernsolar.wordpress.com
About IREC
IREC is a nationally recognized thought leader, stakeholder coordinator, expert resource and facilitator of regulatory reform. Our work expands consumer access to clean energy; generates information and objective analysis grounded in best practices and standards; and leads national efforts to build a quality-trained clean energy workforce. IREC's programs and policies benefit consumers, policymakers, utilities and the clean energy industry.
IREC is an independent, not-for-profit 501(c)(3) organization that relies on the generosity of donors, sponsors and program funder support. http://www.irecusa.org
Featured Product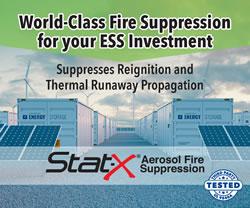 Stat-X® condensed aerosol fire suppression is a solution for energy storage systems (ESS) and battery energy storage systems (BESS) applications. Our Stat-X condensed aerosol fire extinguishing product was tested for efficacy in suppressing li-ion battery fires. It was found that the product successfully extinguished single and double cell battery fires. This testing was conducted in parallel with a large battery fire testing program on behalf of a large energy storage company.