The flywheel energy storage by STORNETIC balances output fluctuations of wind power plants over the long term
The flywheel energy storage by STORNETIC balances output fluctuations of wind power plants over the long term

For the first time, STORNETIC is presenting its energy storage solution for wind parks. The flywheel energy storage solution from the technology company based at Jülich (Germany) allows wind farm operators to balance output fluctuations of their wind power plants over the long term. This allows a wind farm's energy output to be better planned.
"The volatility of wind power will mean major challenges for wind farm operators in the future," explains STORNETIC Managing Director Dr Rainer vor dem Esche. "A new solution is now available thanks to the flywheel energy storage by STORNETIC. Our storage machine EnWheel® allows output peaks to be absorbed, thereby making the output of entire wind farms more even and predictable."
Flywheel helps wind wheel
A second benefit is the fact that the flywheel energy storage will in the future be able to provide grid services in combination with wind power plants. "This is an ideal starting point for the challenges of the future," continues Dr Rainer vor dem Esche.
The EnWheel® flywheel energy storage is able to absorb load changes in the range of milliseconds. The storages are designed for more than 100,000 load change cycles and maintain their full capacity over their entire lifecycle. They are therefore particularly suitable for applications in which many fast load changes are required. EnWheel® is a mechanical energy storage - free from chemicals - and fully recyclable.
First visit to WindEnergy Hamburg
STORNETIC is presenting its energy storage solution for wind farms at the WindEnergy Hamburg fair: 27 to 30 September, stand B6.538.
STORNETIC develops, produces and markets energy storage systems. By using energy storage on a flywheel basis, customers can convert electric power into rotation energy which they can then store.
http://www.stornetic.com
Featured Product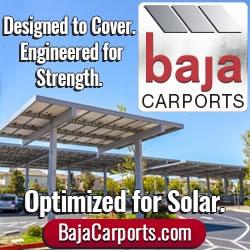 Baja Carports offers an extensive solar support system product line customized to customers' site specifications by in-house engineers, meeting their parking lot coverage, plus optimal PV production needs. Baja's Full Cantilever Tee is often paired with its Semi and Full Cantilever carports to meet live/loads up to 60psf and wind speeds to 160mph. All Baja products are pre-fabricated, bolted connections, pre-galvanized structural steel for fast on-site installation and project aesthetic requirements."