Company's High Capacity Anode Technology Is Expected to Add Significant Capacity Improvement for Existing Lithium-Ion Battery Chemistries
SANTA CLARITA, CA--(September 27, 2016) - BioSolar, Inc. (OTCQB: BSRC), a developer of breakthrough energy storage technology and materials, today announced that it has initiated a new program for the development of a high energy anode for current and next generation lithium batteries. While this anode is an independent technology, the Company will seek synergies with the Super Cathode technology it has been developing.

BioSolar's cathode technology, which had been the primary focus of its university-led research and development efforts, exploits a new chemistry instead of conventional lithium-ion intercalation chemistries. In contrast, BioSolar's new anode technology is compatible with existing lithium-ion intercalation chemistries. There is also a possibility of consolidating with next generation energy storage systems such as lithium-air and lithium-sulfur batteries in the future, thus potentially addressing a larger window of commercialization opportunity.
BioSolar's anode is expected to be compatible with existing battery manufacturing processes, thereby enabling seamless integration and speedy adoption. The Company believes its new anode technology has the potential to reduce costs, improve range, and enable faster charging times across various markets, including electric vehicles, personal technology, and storage for renewable energy, such as solar.
"Scientists and researchers have long-chronicled the importance of complete chemistry overhaul as a means to reaching an energy storage cost of less than $100 per kilowatt-hour," said Dr. David Lee, CEO of BioSolar. "By the addition of new anode development that is compatible with existing intercalation chemistries currently used by conventional lithium-ion batteries, we believe the Company is better positioned to work with the existing battery industry as well as potential partners seeking long term breakthrough battery solutions."
BioSolar has recently announced that it had entered into a new sponsored research program at the North Carolina Agricultural and Technical State University to strengthen the engineering development efforts of its battery technology. Dr. Sung-Jin Cho, Assistant Professor in the Nanoengineering Department at the university, is the lead investigator of the newly initiated sponsored research program.
About BioSolar, Inc.
BioSolar is developing a breakthrough technology to increase the storage capacity, lower the cost and extend the life of lithium-ion batteries. A battery contains two major parts, a cathode and an anode, that function together as the positive and negative sides. BioSolar initially focused its development effort on high capacity cathode materials since most of today's lithium-ion batteries are "cathode limited." With the goal of creating the company's next generation super battery technology, BioSolar is currently investigating high capacity anode materials recognizing the fact that the overall battery capacity is determined by combination of both cathode and anode. By integrating BioSolar's high capacity cathode or anode, battery manufacturers will be able to create a super lithium-ion battery that can double the range of a Tesla, power an iPhone for two days straight, or store daytime solar energy for nighttime use. Founded with the vision of developing breakthrough energy technologies, BioSolar's previous successes include the world's first UL approved bio-based back sheet for use in solar panels.
To learn more about BioSolar, please visit our website at http://www.biosolar.com.
Safe Harbor Statement
Matters discussed in this press release contain forward-looking statements within the meaning of the Private Securities Litigation Reform Act of 1995. When used in this press release, the words "anticipate," "believe," "estimate," "may," "intend," "expect" and similar expressions identify such forward-looking statements. Actual results, performance or achievements could differ materially from those contemplated, expressed or implied by the forward-looking statements contained herein. These forward-looking statements are based largely on the expectations of the Company and are subject to a number of risks and uncertainties. These include, but are not limited to, risks and uncertainties associated with: the impact of economic, competitive and other factors affecting the Company and its operations, markets, product, and distributor performance, the impact on the national and local economies resulting from terrorist actions, and U.S. actions subsequently; and other factors detailed in reports filed by the Company.
CONTACT INFORMATION
Investor Relations Contact:
Tom Becker 
BioSolar, Inc.
ir@biosolar.com
(877) 904-3733
For Media Inquiries:
Eric Fischgrund 
FischTank Marketing and PR
eric@fischtankpr.com
Featured Product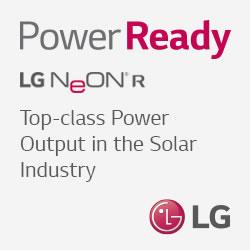 The NeON R module features "Back Contact" cell technology delivering an entirely black panel that is aesthetically pleasing and energy efficient. The cell's seamless, surface blends perfectly into nearly all rooftop designs while the module's electrodes are positioned on the rear of the cell. Using LG's N-type cell structure, the panels produce 365W of energy, up to 7.3kWp, compared to 5.8kWp of the p-type cell. The module's new design minimizes LID, thereby delivering a longer lifespan and increased energy output.