Project helps town of Thompsons generate energy from sunlight.
Alba Energy is proud to announce a beautiful new solar project located in Thompsons, Texas. A 34 kW photovoltaic (PV) solar power system now provides electricity to the small Texas town located in Fort Bend County within the Houston-Sugar Land-Baytown metropolitan area.

The project features 108 QCELLS solar panels and 3 SolarEdge inverters installed using a ground-mounted application.
Residents and visitors to the town of Thompsons will benefit from approximately 49,000 kilowatt-hours of clean energy expected to be produced each year by the new solar power system. This is the environmental equivalent to the carbon sequestered by 892 tree seedlings grown for 10 years, or 32.6 acres of forest in one year.
Alba Energy was selected for this project by NRG, a large electric utility with coverage in Texas, after winning a competitive bidding process.
"Alba competitively bid and flawlessly executed the Thompsons Solar facility ahead of schedule. I would certainly recommend and use Alba Energy as a preferred installer of solar facilities in Texas."
-Anthony Armpriester, NRG Engineering & Construction
"We were delighted to be selected as the EPC partner for this install, representing our 4th commercial solar project in the past 12 months in collaboration with NRG to deliver high quality solar installations. We very much appreciate the trust placed in us by NRG and look forward to further opportunities in the future." -Graeme Walker, Alba Energy's Founder and CEO
About Alba Energy
Based in Austin, Alba Energy specializes in the design, engineering and installation of exceptional quality commercial and residential solar systems across Texas. Learn more about a solar solution for your home or business by calling 800-238-3112 or visiting www.albaenergy.com.
Featured Product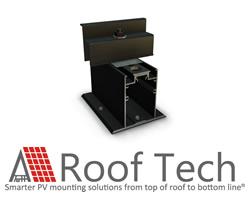 The most compact versatile rail-less PV mounting system under the sun. Instead of placing solar panels on top of long rails, simply attach E Mount AIR to rafters or the roof decking. Once panels are fastened to the roof, the system array is electrically bonded. The result is a visually seamless PV installation that stands the test of time. - Truly "One With The Roof". - PE stamped cert. letters available, UL 2703 Classified, ASTM 2140 fully waterproof. The one and only with integrated flexible flashing certified by the ICC! All the best quality. Only from Roof Tech