Denmark and Italy take centre-stage as partner countries and examples of change
Utrecht, The Netherlands - European Utility Week (EUW), the leading event for the smart utility community, has unveiled this years conference programme. The event, which is taking place at Fira Barcelona Gran Via, Barcelona Spain from 15th to 17th November 2016, will address the challenges created for the utility sector in meeting the EUs climate change targets. Partner countries Denmark and Italy will showcase their efforts so far in creating a greener energy sector.

The event will attract over 12,000 visitors who will be able to attend the Summit or Hub session programmes. The Summit programme facilitates high-level knowledge sharing, networking, and business opportunities for C-Level experts and innovative thinkers. The Hub Sessions are accessible for all visitors and offer free content to everyone who walks the exhibition floor in the form of practical real life project experiences.
New to the event this year are two new features addressing the topical issues of renewables and climate change. The first is the Energy Revolution Europe which will be featured in the exhibition with a dedicated zone and Hub Session Programme. The Hub Session programme will look at the Renewable Energy Directive and discus whether the sector is really ready for large-scale renewable integration and generation.
The second will focus on Intelligent Buildings Europe, a very relevant topic as the European market for building energy efficient products and services has grown from €41.4 billion in 2014 and is predicted to reach €80.8 billion in 2023. The Hub Session programme for Intelligent Buildings Europe will discuss the common goal of meeting climate change commitments, whilst adding commercial perspective to being energy efficient.
Partner countries, Denmark and Italy, will feature throughout the sessions as two European countries that have focused on increasing renewable energy generation and fighting climate change. While Denmark is planning to produce 70 per cent of its energy from renewable sources by 2020, Italy has increased its renewable energy production to reach COP21 goals.
The opening plenary Summit session will include Deputy Permanent Secretary, Danish Ministry of Energy, Christian Pilgaard Zinglersen, who will discuss the energy markets of the future. He will explore developments in the wholesale market and what it needs to change to fit with the energy transition, and the digitalisation of energy services in both Denmark and Europe.
Another Summit session will focus on the Italian Regulatory Model and what differentiates it from other European models.
Paddy Young, Show Director said: "European Utility Week represents a unique opportunity for utilities to connect and discuss the trends of the industry. The Paris Agreement last year was a wake-up call to the energy sector. Climate change and renewable integration are the dominant themes of our time and EUW is the space for utilities to discuss how they can contribute.
"Our country partners, Denmark and Italy, are two leading examples that will act as an inspiration for the industry in their efforts to meet climate change targets."
To see the full conference programme, please go to: http://bit.ly/2dEfcCd
- ENDS -
Media contact
For more information please contact:
Katie Taylor
Aspectus
katie.taylor@aspectuspr.com
+44 (0) 207 242 8867
About European Utility Week
As the premier business, innovation and information platform connecting the smart utility community, EUW focuses on regional and global developments in Grid Optimisation, Renewables, Energy Storage, Smart Metering, Smart Cities, Smart Homes, Energy Services & Efficiency, Intelligent Buildings, Data Management, Analytics and IoT, Cyber Security, Smart Gas and Smart Water.
The event serves as an annual meeting point for the community and will be attended by 12,000 international visitors, 450 speakers and 600 exhibitors.
Innovation underlines every element of the show with a special focus on connecting people from all levels of the utility value chain from technology giants to start-ups and from senior-level experts to young talent.
Featured Product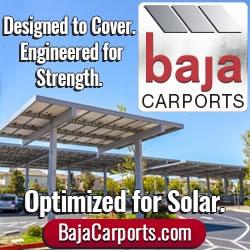 Baja Carports offers an extensive solar support system product line customized to customers' site specifications by in-house engineers, meeting their parking lot coverage, plus optimal PV production needs. Baja's Full Cantilever Tee is often paired with its Semi and Full Cantilever carports to meet live/loads up to 60psf and wind speeds to 160mph. All Baja products are pre-fabricated, bolted connections, pre-galvanized structural steel for fast on-site installation and project aesthetic requirements."