Plastics Pipe Institute Sponsor of 2017 Student Design Competition
IRVING, Texas - Oct. 17, 2016 - The Plastics Pipe Institute, Inc. (PPI) said today that it will continue to support the Department of Energy's (DOE) Race to Zero Student Design Competition. The announcement was made by Tony Radoszewski, president of the trade association that represents all segments of the plastic pipe industry. He also said that the Director of Engineering for PPI's Building and Construction Division, Lance MacNevin, P. Eng, will serve on the panel of jurors who will evaluate the projects for the 2017 event.

The Race to Zero encourages students to work with builders, developers, community leaders plus other industry partners to meet stringent design requirements and create marketable, affordable concepts. Projects are evaluated on numerous design criteria of a Zero Energy Ready Home that is cost-effective and consistent with mainstream builder construction practices. The mandatory performance target is the DOE Zero Energy Ready Home specification.
"We are very happy to contribute our resources to this DOE program that is fun, educational and provides a real-world challenge for college students." Radoszewski stated. "PPI's goal has always been to be a resource for the industry and academia. This will be our third year helping students to find the best methods and products to achieve the best use of energy."
The 2016 Race to Zero Competition took place at DOEs National Renewable Energy Laboratory (NREL) in Golden, CO on April 16-17, 2016. PPI was one of nine sponsors with MacNevin also participating as a juror. There were 180 attendees from United States and Canada. In all, 31 teams from across North America participated in the event, presenting their design proposals. Each entry was rated and scored in ten areas and the results were tabulated by NREL staff to determine the first and second place winners in each of the four categories -- Single Family Urban Homes, Single Family Suburban Homes, Attached Housing and Multi-family Housing. Winners were announced at the awards banquet on Sunday evening by Sam Rashkin, chief architect of the DOE who also supervises the Race to Zero program.
Several of the projects included plastic pipe technologies such as PEX or CPVC for plumbing, PEX or PE-RT for radiant heating and cooling in poured concrete floors, and high-density polyethylene (HDPE) for geothermal piping in vertical boreholes.
Attendees also toured the NRELs new Energy Systems Integration Facility. "It is interesting to note that this facility is conditioned with a PEX-based radiant heating and cooling system," MacNevin commented. "The system is very efficient and is supplied with waste heat from their super computer as well as biomass heat from wood chips. Large diameter PP-R piping is used to transfer hydronic fluid throughout the facility.
"For many years PEX and CPVC pipes have been used in buildings and homes for heating and plumbing," MacNevin said. "The industry is increasing its efforts to meet the need for larger diameter pipe for commercial buildings and also for hydronic distribution piping."
PPI has several free tools available on its website, www.plasticpipe.org, such as the PEX Plumbing Design Guide and the Plastic Pressure Pipe Design Calculator which students can use to help in planning their projects.
"PPI will continue to enhance its support of the competition in 2017 by providing even more information to the student teams about integrating plastic plumbing, fire protection, radiant heating/cooling and geothermal technologies to achieve Net Zero HERS ratings," MacNevin stated. "We are excited to see the entries."
The deadline for a team's 2017 application is November 1, 2016. Complete information about the DOE Race to Zero Competition can be found at: www.energy.gov.
For additional information, go to the Plastics Pipe Institute's website at: www.plasticpipe.org.
About PPI:
The Plastics Pipe Institute Inc. (PPI) is the major trade association representing all segments of the plastic pipe industry and is dedicated to promoting plastics as the material of choice for pipe applications. PPI is the premier technical, engineering and industry knowledge resource publishing data for use in development and design of plastic pipe systems. Additionally, PPI collaborates with industry organizations that set standards for manufacturing practices and installation methods.
Featured Product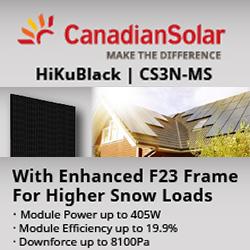 Aesthetic appearance for residential systems: With black backsheet & black frame, Power range 380 ~ 405 W, Low power loss in cell connection. Enhanced reliability: · Low temperature coefficient (Pmax): -0.34 % / °C, LID LeTID less than 2.0%, Lower hot spot temperature, Better shading tolerance.