8minutenergy announces it is initiating a capital raising process to support the development of its 5.5 GW utility-scale solar PV project pipeline with BofA Merrill Lynch as its financial advisor.
8minutenergy Initiates Development Platform Capital Raise and Investment Opportunity into Over 500 MW of Projects With Long Term PPAs and $1 Billion Enterprise Value

Capital raise will support development of 8minutenergys 5.5 GW utility-scale solar PV project pipeline.
SAN FRANCISCO, CA, October 19, 2016 - 8minutenergy Renewables, LLC (8minutenergy), the leading independent solar photovoltaic (PV) developer in the United States, today announced it is initiating a capital raising process to fuel growth of its 5.5 gigawatt (GW) U.S. pipeline, including over 500 megawatts (MW) of wholly-owned near shovel ready projects with long term power purchase agreements (PPA). 8minutenergy has retained BofA Merrill Lynch as its financial advisor.
The near term projects are expected to have an enterprise value in excess of $1 billion. 8minutenergy develops, engineers, builds, and owns utility-scale solar projects including the worlds largest solar project, as measured by signed PPAs, and since founding has developed over 700 MWs of operational projects.
"8minutenergy has greenfield-developed one of the solar industrys largest project pipelines, and has a unique position in the market," said Martin Hermann, 8minutenergys CEO and founder. "Since 2009, we have built a highly successful solar development platform, having secured over 1.5 GWs of long-term PPAs across 14 projects, representing $5.5 billion in contracted revenues. As the U.S. solar market continues to grow, driven by the increasing price competitiveness of utility-scale solar, the ITC extension, and various decarbonization policies, we are well positioned to capitalize on our growing pipeline delivering gigawatts of clean energy into the grid."
"With over 700 MWs of developed projects in operation, 8minutenergys projects have secured in excess of $1 billion in third party investment, generating significant benefits for project stakeholders," said Tom Buttgenbach, President of 8minutenergy. "Our strategy continues to focus on large utility-scale greenfield development, deploying best-in-class solar solutions providing our customers with the greatest value for their energy needs. As we continue to expand and build upon our proven, levelized cost of energy-centric platform, we are looking for efficient investment capital to fund a variety of interesting development and long term ownership opportunities in the U.S."
###
About 8minutenergy Renewables, LLC
Founded in 2009, 8minutenergy Renewables is the nations largest independent developer of solar PV projects. To date, 8minutenergy has nearly 5.5 gigawatts under development in North America, been awarded more than 1.5 GW in power purchase agreements, and is developing some of the largest solar plants in the world, including the 800 MW Mount Signal Solar Farm in California. 8minutenergy has an unmatched ability to produce affordable clean energy and to deliver strong financial returns on utility-scale solar projects. For more information, please visit www.8minutenergy.com.
Media Contact:
Helena Kimball, Vice President of Global Marketing, 8minutenergy, press@8minutenergy.com
Featured Product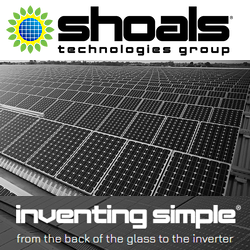 Inventing Simple® isn't just a slogan to us, it's a way of life. Using simple plug-and-play ideology, we revolutionized solar installations in 2003 with our Interconnect System™. Our harnessing system is now the gold standard EPC's use around the world. By using simple ideas, we are making solar energy a more affordable and clean power source for future generations.