Radiance Solar selected to design and build this cutting-edge solar facility in Athens, GA.
ATHENS, Ga., October 20, 2016- Radiance Solar announces the completion of a grid-tied, state-of-the-art 1.25-megawatt (dc) solar research project designed for studying solar panel performance. The installation is located on a 10-acre site leased to project owner Georgia Power by the University of Georgia. The renewable energy credits resulting from operation of the facility will be owned by the University of Georgia.

As the Engineering, Procurement and Construction contractor, Radiance Solar designed and engineered the project which demonstrates optimal orientation and tracking technology suited for Georgia's climate and energy demand. Project partners Southern Company, the Electric Power Reliability Institute (EPRI) and the University of Georgia will study performance and reliability factors to better understand regional integration of solar on the grid.
The array consists of five sub arrays utilizing differing solar technologies including high-efficiency 435-watt solar panels, single-axis trackers and monitoring from SunPower (Nasdaq: SPWR), SMA Tripower inverters, Sonnen dual-axis trackers and Brilliant Rack fixed-tilt racking in various configurations.
"We are proud to be a part of the team that is advancing solar in Georgia," said James Marlow, CEO and Co-Founder of Radiance Solar. "This is the kind of investment that will further the efficiencies of the technology and help us understand the potential of solar as a cost-effective energy resource for our state."
About Radiance Solar:
Based in Atlanta, Georgia, Radiance Solar is a leading solar contractor, specializing in the design, installation and maintenance of solar energy systems. Radiance has constructed over 60MW of power in the Southeast on over 250 sites and maintains over 70MW, including Georgia's largest solar facility. Their mission is to bring low-cost, reliable solar energy within reach of every electricity user through a relentless commitment to innovative design, aggressive procurement and efficient construction techniques. www.radiancesolar.com
Featured Product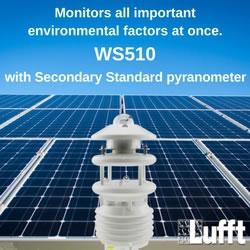 Professional weather sensors form the heart of large solar plants supporting their operation and performance. Lufft was the first manufacturer to combine several sensors in one housing, bringing the largest multiparameter weather sensor family with 19 members into being. Many of them are well-suited for solar site assessment and continuous monitoring. The most commonly used one is the WS600 delivering data on temperature, air pressure, wind, relative humidity and precipitation. Through its open protocol, it can easily be attached to radiation sensors e.g. from Kipp&Zonen. Other models have an integrated Silicon, Second Class or Secondary Standard radiation sensor.