Companies will collaborate on 1 MW / 2 MWh system at Panasonic's Denver operations hub; Latest customer-sited deployment of Younicos's innovative plug-and-play Y.Cube storage system
BERLIN & AUSTIN, Texas--(BUSINESS WIRE)--Energy storage company Younicos has signed an agreement with strategic partner Panasonic to design and build a solar-plus-storage system at Peña Station NEXT in Denver, Colorado, which includes the operations hub for Panasonic Enterprise Solutions Company and Panasonic CityNOW. The system will make use of multiple Younicos Y.Cubes, the innovative "storage-in-a-box" solution for C&I applications from the German-American industry pioneer.

The project calls for four Y.Cubes to be installed at the Panasonic facility in Denver, Colorado. The one-megawatt (MW) storage resource, which will be connected to the Xcel Energy power grid, will provide frequency regulation, solar grid integration through ramp control, grid peak shaving, passive energy arbitrage, and backup power - enabled by Younicos's intelligent Y.Q storage control software. This multi-mode operating capability will enable Panasonic, Xcel Energy, and other microgrid stakeholders to derive maximum benefits from Xcel Energy's 1.6 MW solar PV system sited on a parking structure nearby, along with 259 kW of PV on the building's rooftop.
"The solar-plus-storage microgrid is an anchor, not just of Panasonic's new Denver operations hub, but also for the broader Peña Station NEXT development, which is a 400-acre, smart and sustainable transit-oriented development in Denver," said Jamie Evans, managing director of the Energy Solutions Group at Panasonic Enterprise Solutions Company. "We are excited to partner with Younicos and Xcel Energy to bring this innovative project to life."
"We're very pleased to work with Panasonic on this project, which highlights the advantages of our plug-and-play Y.Cube system for commercial and industrial use cases," said Stephen Prince, Younicos CEO. "Like Younicos, Panasonic is a technology leader with a strong focus on the benefits of solar-plus-storage for different applications. They and the local grid will benefit enormously from this resource."
The Y.Cube consists of two sub-enclosures, one each for the power conversion system and DC battery block. The controls are embedded in the PCS and communicate directly with the battery system, bypassing the need for additional battery-to-PCS communication interfaces. Its optimized configuration translates to ultra-fast response time for improved PCS efficiency and enhanced grid-forming capability.
The Y.Cube is available in 250 or 500 kVA modular building blocks that can be deployed individually in smaller applications or combined to create multi-megawatt systems. Its compact size allows for easy installation. No on-site crane is needed; installation can be done with a forklift, saving considerable time and money.
About Younicos
Younicos is a global leader for intelligent energy storage and grid solutions. Clients benefit from technical expertise, commercial know-how and in-depth experience built on nearly 100 megawatts installed in 25 energy storage projects worldwide. The company was founded in 2005 in Berlin, Germany, and currently employs more than 125 storage experts there and in Austin, Texas (USA). For more information please visit http://www.younicos.com and follow us on LinkedIn and Twitter.
Featured Product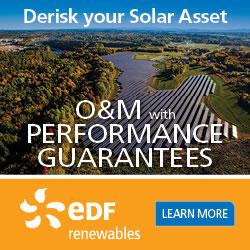 EDF Renewables offers the same innovative solutions that maximize the performance of our own 5.2 GW of installed projects. Because we're not an equipment manufacturer, our recommendations are transparent and data-driven. We cover the entire project lifecycle: from pre-commissioning support, through warranty and post warranty operation, to late stage and decommissioning.