Country's booming solar-plus-storage market grows without federal incentives
WASHINGTON -- Smart Electric Power Alliance (SEPA) President and CEO Julia Hamm and Executive Vice President Tanuj Deora are on the ground in Australia, leading a fact-finding mission offering 26 U.S. energy industry leaders a unique opportunity to learn about the country's vibrant distributed energy resource (DER) market.

Cosponsored by energy consultants ScottMadden, the Australian trip, Nov. 13-18, is SEPA's 11th Fact-Finding Mission. With sessions in Brisbane and Melbourne, the mission will bring the U.S. executives together with Australian utility officials, researchers and policy makers to share the different and common challenges they face as each country undergoes a fundamental transformation of its energy system.
The Australian market has significant differences from the U.S. With a population of about 24 million, Australia has installed more than 5 gigawatts of photovoltaic solar -- mostly residential rooftop arrays -- with penetration levels reaching close to 50 percent in some neighborhoods. Significantly, the Australian market -- now encompassing solar, storage and other DERs -- continues to grow, even without major federal incentives or policy support.
Trip highlights will include:
• An overview of how Australian policy makers and energy industry leaders have worked together to lay out a 10-year roadmap to energy industry transformation.
• A site visit focused on the roll-out of electrical vehicles in Australia -- and the associated EV charging infrastructure.
• Discussions on the growing market for solar-plus-storage and other DERs in Australia, and how these technologies are driving change in utility business models.
Hamm, Deora and other trip participants will be available for interviews on their return, to discuss their perceptions and insights about the commonalities and differences between the U.S. and Australian energy transitions, and implications for the future of both countries.
Featured Product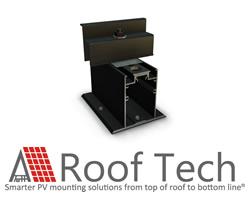 The most compact versatile rail-less PV mounting system under the sun. Instead of placing solar panels on top of long rails, simply attach E Mount AIR to rafters or the roof decking. Once panels are fastened to the roof, the system array is electrically bonded. The result is a visually seamless PV installation that stands the test of time. - Truly "One With The Roof". - PE stamped cert. letters available, UL 2703 Classified, ASTM 2140 fully waterproof. The one and only with integrated flexible flashing certified by the ICC! All the best quality. Only from Roof Tech