Decorated CIA Veteran, Survival Specialist Deploys Solar PV with Battery Back-up -- and Sun Bandit's PV-Powered Water Heating System -- to Drive Energy Independence and Off-Grid Survival Capabilities for Suburban Subterranean Home
Eighty five-year-old CIA veteran Joe Kelly has never done things conventionally. Yet the treasure trove of awards, medals and commendations hes earned over the years affirm that his methodologies are not only honorable, but effective.

Kellys lifetime of military service had him operating on and off the grid in 45 countries spanning over 22 years. Hes been extensively decorated for his combat service. This soldiers been shot 5 times in the course of action -- and shot at many times more! His work has earned him two Presidential Citations for Extreme Heroism, a Medal of Honor from the Vietnamese government, the Medal for Civilian Service, the coveted Cross of Gallantries for peace-time service and a veritable kaleidoscope of chest candy.
Not one to idle in retirement, his latest unconventional endeavor has again driven him 'underground -- this time quite literally, in rural Jonesborough, Tennessee, where hes built a 2,800-square-foot earth berm home.
Ensconced in a 24" concrete membrane, Kellys 4-bedroom, 2-garage home is nearly indistinguishable in the bucolic Tennessee landscape. The only birds-eye-view indicators that subterranean life exists are 1) Kellys array of 21 solar modules representing 5.25 kilowatts (kW) of solar PV and 2) a mysterious driveway leading to that aforementioned micro-grid. While the array appears at first blush to be a ground-mounted system on a concrete slab, its actuality sitting on Kellys rooftop.
This array is Kellys first foray into the world of solar. The local utility has a program to compensate Kelly up to 2 cents a kilowatt hour for power he feeds into the grid - and his system qualifies for a healthy 30% federal ITC (Investment Tax Credit) on hardware and installation. But Kellys driving motivation for going solar was the ability to sustain himself in the event of a disaster - or during intermittent power outages.
"Im a survival specialist," Kelly said. "I live in a 4-bedroom cave here -- an underground house -- and Im completely self sufficient," said Kelly. "You cant walk around and wait for Uncle Sam to take care of you."
In the interest of preparedness, Kelly secured a generator, constructed his own working well on the property and has food stores and supplies to last him an entire year. His next objective was to identify reliable solar and water heating systems.
After investigating credentialed PV installers via the local Jonesborough Power Board, Kelly engaged NABCEP(1)-certified installer Ian Huddleston of Greene Tech Renewable Energy to help achieve his energy independence ideals.
"Joe wanted a system that would allow him to operate independent of the grid - one that he could have confidence would deliver electricity, refrigeration and the ability for him to pump water in event of a power outage," said Huddleston.
They assessed Kellys energy needs and decided upon 3.75 kW of solar PV with battery back-up. Huddleston used 15 250-watt black frame, black glass Axitec polycrystalline modules on Zilla Cobra flat roof ballasted racking to power Kellys self-described cave, which allowed for secure mounting with no rooftop penetrations -- an important consideration given the 24-inches of concrete that serves as Kellys rooftop! Huddleston installed the system late last year.
The final frontier in realizing Kellys quest for energy independence was determining how to heat his water. Appealing to Kellys no-nonsense nature, Huddleston suggested Sun Bandit, the world's first PV-powered solar water heating system. Earlier this year, Sun Bandits off-grid efficiencies earned it a perfect 10 in the Tennessee Valley Authority (TVAs) Energy Right eScore program, where heat pump water heaters scored only a 7.
Huddleston suggested Sun Bandit for Kelly for numerous reasons. "Its simple and straightforward. It doesnt have the mechanical issues of traditional solar water heating systems. Its easy to maintain (theres no glycol to drain) and while its designed to work independent of the grid, it could seamlessly integrate into Joes existing rooftop PV system. Further, Joe likes his water HOT (a practice he credits to his service in Japan)," continued Huddleston. "The 50-gallon Sun Bandit tank delivers plenty of hot water; and its unique design ensures the system wont overheat."
Huddleston says if demand spikes at night or situations occur that require back-up, Sun Bandit can accommodate electric power from the utility to keep stored water at Joes ideal temperature. Another feature that won this covert operator over is that Sun Bandit comes with its own monitoring system. Its very easy to verify the Sun Bandit system is working. And maintenance? A rooftop hose is all thats needed to keep the module glass clean and optimizing energy production.
Huddleston installed Kellys Sun Bandit last week, replete with six PV modules totaling 1.5 kW. And because its off the grid, it requires no utility or government approvals.
"I have my own generator, rooftop solar and I just had a solar water heater put in. And Im living independently in a beautiful part of the world with some of the finest folks youll ever meet," said Kelly. "I love it!"
"It was a special honor to fulfill Joe's dream the same week that Americans across the USA honor the service, dedication and sacrifice Veterans have given our country," said Huddleston. "On the heels of Veterans Day, we honor the remarkable life and service of Joe Kelly as we're inspired by his most recent campaign to create a uniquely-hospitable haven to survive - and thrive - in his golden years."
This retired off-grid operative has most certainly earned his proverbial place in the sun. Who ever thought itd be shining upon an elegant, energy-independent man cave?
(1) NABCEP (the North American Board of Certified Energy Practioners) is the national certification organization for professional installers in the field of renewable energy.
About Next Generation Energy's Sun Bandit® : Sun Bandit is a trademark-registered, patented product innovation of Colorado-based Next Generation Energy (NGE®), whose expertise in PV, solar thermal and off-grid system design and engineering have been delivering high-performing, money-saving renewable energy solutions to commercial, utility-scale, governmental, individual and multi-family housing interests for over 30 years. Learn more by calling 877-NGE-4SUN - or visit ngeus.com. Find Sun Bandit at http://www.sunbandit.us.
Featured Product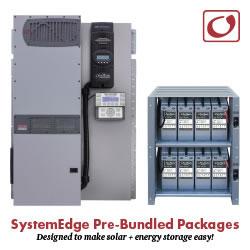 Each pre-bundled package is designed to make solar plus energy storage easy. By combining OutBack's most popular FLEXpower pre-wired systems with matched OutBack energy storage, SystemEdge takes the guesswork out of installing solar plus storage. Every SystemEdge package includes a FLEXpower factory pre-wired system, application-specific EnergyCell batteries and racking, FLEXware ICS Plus combiner and all the necessary connection hardware.