Boutique agency announces four new innovative clients, eyes exponential growth in 2017
BROOKLYN, N.Y. - November 30, 2016 - Eco Branding, an integrated public relations, marketing and creative agency that specializes in clean technology, today announced the addition of four highly-innovative companies to its roster of prominent clean technology clients. Eco Brandings client portfolio now spans a range of clean technology verticals, including solar energy, energy storage, smart grid, energy management, electric and autonomous vehicles, Internet of Things (IoT) and smart home technology.

"Eco Branding has spent that past five years working as a trusted agency and advisory partner to the visionary entrepreneurs who are helping solve the most complex energy, sustainability and resiliency challenges of our time. Weve been honored to amplify their stories and play a role in the acceleration of these game-changing technologies," says Jake Rozmaryn, CEO and Founder of Eco Branding. "Our continued growth and client successes can be attributed to the hard-work, creativity, responsiveness, passion and dedication of our outstanding team."
Eco Brandings flexible, full-service agency model and clean technology domain expertise has attracted clients from across the world, ranging from early and growth-stage start-ups to global Fortune 500 companies.
Eco Brandings New Portfolio Companies Include
• Eos Energy Storage, a New York and New Jersey-based company that created Znyth® battery technology—the worlds first ultra-low-cost, safe, reliable and robust grid-scale energy storage solution that cost-effectively maximizes energy availability at the most congested points on the grid, alleviates the need for underutilized and expensive utility infrastructure and optimizes the use of renewables and distributed energy assets.
• Totem Power, a New York-based start-up with a revolutionary smart city utility product that packages solar energy, energy storage, advanced communications, electric vehicle charging and smart lighting infrastructure into a visually-stunning platform that is built into the fabric of communities—increasing the sustainability, connectivity, mobility, resiliency and security of smart cities.
• Go Electric, an Indiana-based start-up with the first uninterruptible power system (UPS) that combines battery energy storage and microgrid controls to optimize distributed energy resources, automate demand response and energy savings, and improve energy security, efficiency and resiliency.
• Embue, a Massachusetts-based start-up that has developed a cloud and IoT-based smart home technology suite for multi-family buildings which increases energy and operational efficiency for property managers, while providing enhanced comfort, connectivity and safety for tenants.
The Year Ahead: Exponential Growth + A Commitment to New York
Since its inception, Eco Branding has experienced nearly 100 percent year-over-year growth and has aggressive growth plans for 2017. The company will be announcing the creation of two new business units and service offerings, regional expansion plans and key additions to the leadership team over the next several months. To support these efforts, Eco Branding plans to expand its staff by as much as 300 percent over the next 12 months, and is hiring at all levels.
In the last year, Eco Branding relocated its headquarters from Washington D.C. to Downtown Brooklyn, New York. The relocation came at a time when New York was making massive investments in, and commitments to, clean energy, sustainability and resiliency technologies.
"Were incredibly thankful for the work of key government and non-profit organizations that have been critically important to driving these markets forward. New York has demonstrated not only leadership, but action, and is setting an example on a global scale," Rozmaryn said. "Our hats are off to organizations like NYSERDA, NYC ACRE/Urban Future Labs, PowerBridge NY, Urban-X and the many other groups that are creating a brighter, more optimistic future for us all."
"Were proud to call New York City home and were excited about contributing to this ecosystem and bringing more jobs and awareness to this market," Rozmaryn added.
About Eco Branding
Eco Branding is a passion-driven integrated public relations, marketing and creative agency that works with innovative clean technology companies advancing industries such as solar energy, energy storage, smart grid, Internet of Things (IoT), autonomous vehicles, energy efficiency, and other established and emerging clean technologies. We partner with clients to develop, implement, manage and analyze impactful marketing programs that are designed to accelerate growth and commercialization. Eco Branding is based in Downtown Brooklyn, NY. Learn more at www.ecobrandit.com or follow Eco Branding on Twitter, LinkedIn or Facebook.
Were hiring at all levels! Visit our careers page to learn more at www.ecobrandit.com/careers/.
###
Media Contact
Molly Rafelson
Eco Branding
mrafelson@ecobrandit.com
866.945.9445 ext. 707
Featured Product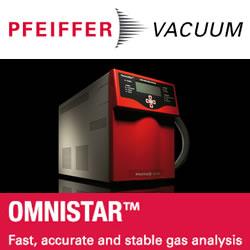 The Pfeiffer Vacuum OmniStar benchtop analysis system offers you a compact footprint, powerful software and Ethernet connectivity. It's the optimum solution for many real-time gas analysis applications. With the OmniStar, Pfeiffer Vacuum offers you a complete solution for gas analysis, in chemical processes, semiconductor industry, metallurgy, fermentation, catalysis, laser technology and environmental analysis. The turnkey OmniStar gas analysis system consists of heated, temperature-regulated gas inlet system, Quadrupole mass spectrometer, a dry diaphragm vacuum pump and HiPace turbopump. Unlike competing methods such as FTIR, OmniStar is suitable for qualitative and quantitative analysis of most gases.